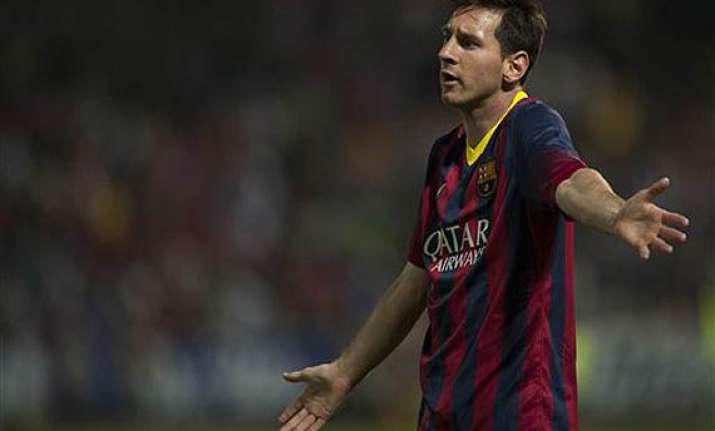 BARCELONA, Spain :  Barcelona compounded its exit from the Champions League by losing 1-0 at Granada on Saturday, missing the chance to take the provisional lead of the Spanish league.
Barcelona's stumble ensured the same Atletico Madrid that ousted it from Europe's top-tier competition will maintain its league lead as it stayed one point clear before visiting Getafe on Sunday.   
Granada's Yacine Brahimi scored what proved to be the winner in the 16th minute and goalkeeper Orestis Karnezis made saves to deny Lionel Messi and Neymar amid a plethora of scoring chances that Barcelona failed to finish.   
Barcelona has four more days to regroup from back-to-back defeats before it plays Real Madrid in the Copa del Rey final in Valencia. It will then have five more rounds in the league as it tries to defend its domestic title.   
Madrid was three points behind Atletico before it hosted Almeria later without injured forward Cristiano Ronaldo.   
"It's a step back," said Barcelona midfielder Andres Iniesta, whose late shot trickled by the post with Granada bunkered down in its area.   
"It hurts more given how few games are left. Sometimes it's difficult to explain it when you lose. We did everything but score. We controlled everything else, but just couldn't finish our chances. That's the hard part."   
With his centerbacks Gerard Pique, Marc Bartra and Carles Puyol all injured, Barcelona coach Gerardo Martino shifted Sergio Busquets into his back line and started Alex Song in midfield. 
It didn't take long for the shuffling to backfire, when Song lost the ball and Granada sprung a counterattack. Fran Rico quickly played Brahimi through for the forward to ride Martin Montoya's mark before he shot beyond goalkeeper Jose Pinto.   
"I don't think the lineup changes were decisive in a match that Barcelona should have won," Martino said. "Normally Barcelona wins this game by four or five goals. After two losses, the squad feels that something important is slipping away, but on Wednesday we must try and win the final (of the Copa)."   
"I can't feel good after these results, but we will keep fighting for the league. We can't confuse sadness with giving up."   
Barcelona peppered Granada's area with crosses and shots but went no closer in the first half than Neymar's long-range attempt in the 30th that Karnezis pushed wide, while Messi tried in vain to dribble through the middle of the defense.   
The visitors kept pressing after the restart and Karnezis was called on to stab Cesc Fabregas' volley around his post in the 54th. He then stretched to palm Messi's free kick before he was well positioned to block Busquet's try.   
Granada's Youssef El Arabi almost grabbed a second goal two minutes from time but he couldn't better Pinto one-on-one.   
Also, Villarreal striker Jeremy Perbet headed in a free kick five minutes into stoppage time to snatch a 1-0 win over Levante.   
The otherwise dull match appeared destined to end scoreless until a late foul earned by Javier Aquino on the right side of the area let Manuel Trigueros find Perbet unmarked at the near post.   
Villarreal's first win at El Madrigal in six straight games lifted it into sixth place, one point ahead of Real Sociedad after it allowed 10-man Celta Vigo to fight back twice for a 2-2 draw.   
Sociedad led twice on goals by Sergio Canales and Antoine Griezmann and was ahead 2-1 when Celta's Jon Aurtenetxe was shown a red card early in the second half. But Santiago Mina scored for Celta in the 82nd to split the points.