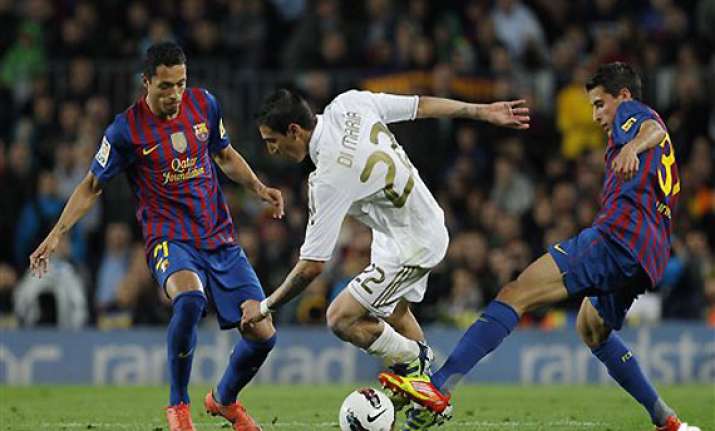 Barcelona, Apr 23: Still recovering from a morale-busting loss at home in the Spanish league, Barcelona will need to quickly regroup to beat Chelsea and overturn a first leg deficit in the Champions League semifinals.

The defending champions in both Spain and Europe lost to Real Madrid 2-1 on Saturday and now trail their biggest rivals by seven points with four games to go. Last week, the Catalan team lost at Chelsea 1-0 in the first leg of the Champions League semifinals.

It was first back-to-back losses in almost three years.

"This isn't a delicate moment, it's a promising one," Barcelona midfielder Xavi Hernandez said. "We have in our hands the chance to make it a great season. We are competitive, but this team has stood out for knowing how to deal with losing. We accept loses and move on."

Chelsea is unbeaten in its last six meetings with Barcelona, and the English team will likely keep to its defensive tactics in an attempt to stop Lionel Messi from influencing the match.

"I think we'll require (a game) similar to the home leg," Chelsea defender Gary Cahill said after his team's 0-0 draw with Arsenal on Saturday. "A little element of luck, defensively as a whole unit everyone sticking to their task, and the (same) concentration level."

Messi was bottled up by both Chelsea and Madrid to remain scoreless in his last two outings, and when he did manage to set up his teammates, they failed to finish.

Against Madrid, the three-time world player of the year didn't even manage a shot on goal, something almost unimaginable for the club's all-time leading scorer who already has 63 goals this season.

While Barcelona generated more than enough chances against Chelsea to draw or even win their first game, it was uncharacteristically sluggish and predictable against Madrid with playmakers Andres Iniesta and Xavi not their usual sharp selves.

Barcelona coach Pep Guardiola can count on Cesc Fabregas and Gerard Pique to be fresh after neither played a minute against Madrid.

Pique, who didn't appear in the first leg in London, either, could play a critical role by starting Barcelona's attack with his long passing from the back.

Interim Chelsea manager Roberto Di Matteo defended his strategy of using two tight defensive lines.

"You know how many players, how many teams and managers have tried with different tactics to play against Barcelona?" Di Matteo asked. "They will always create chances, whatever you do, because of the sheer quality that they have in the team, the individual quality between the players.

"They've got top players, more than one of the best players in the world in their team."

Chelsea arrives in better physical form after resting most of its starters over the weekend. Striker Didier Drogba, who scored from Chelsea's only shot on goal in the first leg, is the team's only major doubt as he tries to recover from a knee injury.

Barcelona knows that it must not to concede another goal on its home ground if it hopes of making its third Champions League final in four years.

"We have the Champions League within our grasp and we can reach another final," Barcelona captain Carles Puyol said. "We have to be very careful on their counterattacks and set pieces."

The winner will face either Bayern Munich or Madrid in the final on May 19. Madrid hosts the German side on Wednesday looking to come back from a 2-1 loss in the first leg.