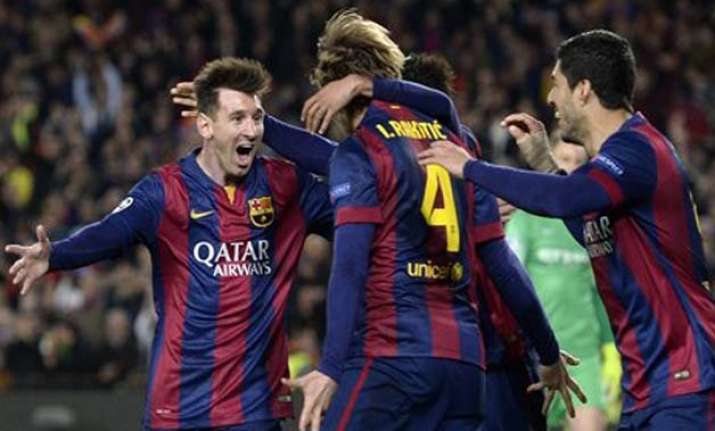 Barcelona, Spain: Lionel Messi helped Barcelona to a convincing 1-0 win over Manchester City on Wednesday that only goalkeeper Joe Hart prevented from becoming a rout, as the Spanish hosts reached the Champions League quarterfinals for a record eighth consecutive season.
Faced with the daunting task of overturning a 2-1 first-leg loss, Manuel Pellegrini's City needed an inspired showing from Hart just to avoid a thrashing as Messi and Neymar ran amok at Camp Nou.
A superb pass by Messi for Ivan Rakitic allowed the midfielder to score in the 31st-minute of a lopsided first half that saw Neymar and Luis Suarez hit the woodwork for the home side, while a rattled City racked up four bookings to one shot on goal.
City's only chance of a lifeline came with a penalty in the 78th minute, but Barcelona keeper Marc-Andre ter Stegen saved Sergio Aguero's spot-kick.
"It was a great game," Messi said. "We are confident, important things are head for us. I'm enjoying this moment just like the rest of the team."
City has now lost to Barcelona at this stage of the competition for two years in a row, and is still waiting to make its first appearance in the final eight of Europe's top-tier tournament.
"I don't feel it as a failure, I feel it as a disappointment," Pellegrini said. "It's frustrating. But Barcelona is the better team."
The contest also highlighted the gulf that has opened up between Spanish and English football at the highest level of club football.
With Real Madrid and Atletico Madrid also through, Spain now has three teams in the quarterfinals for a third season in a row. By contrast, after having a quarterfinalist each year from 1997-2012, England has none for a second time in three seasons.
Juventus also advanced on Wednesday after winning 3-0 at Borussia Dortmund and 5-1 on aggregate in the night's other game.
City's sloppy start almost cost it dearly.
Bayern Munich coach Pep Guardiola took his seat just in time to see his former team nearly open the scoring when Dani Alves recovered the ball from Vincent Kompany inside City's area. His pass found Neymar, but the Brazilian's shot hit one post and squirmed along the goalline before turning past the other upright.
While City's showed early jitters, Barcelona displayed its usual flair and Messi drew the first of 10 saves made by Hart.
"We should have won by a greater margin," Barcelona coach Luis Enrique said. "We had countless chances, something which is not normal in a game with this level of tension. We didn't finish them off because we had a spectacular Hart in front of us."
City quickly found itself in the predicament that the only way it could slow down Messi— who dribbled through at least three City player's legs before halftime— and Neymar was by bringing them down. That meant Fernandinho, Aleksandar Kolarov, and David Silva were all booked for fouling the duo by the half-hour mark, and Samir Nasri would further hamstring his side by kicking Neymar after Rakitic put Barcelona in front.
"When Messi had the ball, there was complete chaos on the pitch," Pellegrini said.
Barcelona's goal was, fittingly, a choral affair.
Jordi Alba started a counterattack, Neymar used a smart move to lure in right back Bacary Sagna, and Messi drew the deserved attention of three defenders before lobbing a pass over the top to the unmarked Rakitic.
Rakitic used his chest to control Messi's cross before lobbing the ball over Hart and into the far side of the net.
Luis Suarez, the scorer of both Barcelona's goals in the first match, was the quiet member of Barcelona's attacking trio until he hit the post one minute before halftime.
City improved with winger Jesus Navas on for Nasri in the second half, but a side that needed two goals to force added time could only cling to Hart.
While counterpart Ter Stegen smothered Aguero's spot kick after Gerard Pique had fouled him, Hart had a superb second half that included denying Messi on three clear scoring chances as well as blocking back a pair of Neymar strikes.
Barcelona will now turn its focus to Sunday's game against Real Madrid, when Luis Enrique's team will look to protect its one-point lead over its fierce rivals at the top of the Spanish standings.