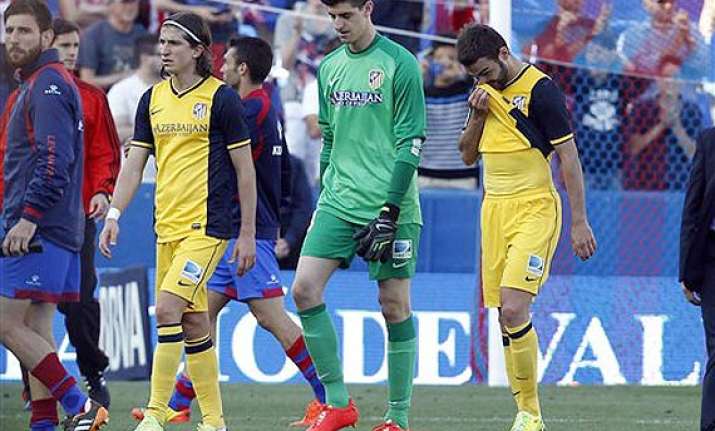 BARCELONA, Spain :  Atletico Madrid's march to the Spanish league title hit a bump when it lost 2-0 at Levante on Sunday, meaning it likely must win its remaining two games to hold off Real Madrid and Barcelona and win its first championship since 1996.
Levante pressed early and was rewarded when Papakouly Diop's corner kick hit Atletico left back Filipe Luis in the chest. The ball bounced out of reach of scrambling goalkeeper Thibaut Courtois before settling into the net in the seventh minute.   
Atletico improved after bringing on substitutes Arda Turan and Adrian Lopez after halftime but conceded again when striker David Barral beat Courtois in the 69th.   
Atletico's first loss in 10 rounds left it three points ahead of Barcelona, which hosts Atletico on the season's last day. Real Madrid trails Atletico by six points but has two more games to play.   
Madrid hosts Valencia later Sunday and travels to Valladolid on Wednesday before Atletico plays again next weekend. Atletico holds the head-to-head advantage over Madrid, giving Diego Simeone's team the tiebreaker if the two sides -- set to meet in the Champions League final on May 24 -- also finish level on points in La Liga.   
But this stumble throws open the race once again for all three sides, despite Barcelona's coach and players saying their title defense had been scuttled by their 2-2 draw with Getafe on Saturday.   
"Now the league is that much more interesting," Simeone said.   
Atletico's path to its first domestic league title in 18 years now goes through wins at home over Malaga and then at Camp Nou.   
Far from bemoaning the setback, Simeone said that defeat was "the best thing that could happen" to his team to keep it focused on the run-in not only to the league title but also to the European final a week after the league concludes.   
"Three weeks of high intensity and emotion await us," Simeone said. "This is the ideal moment for my men, for my players. We have three finals ahead of us and we have to concentrate on the first of those against Malaga next Sunday."   
The large contingent of fans who traveled with Atletico from the Spanish capital were left disappointed, but they still applauded their squad after the final whistle at Ciutat de Valencia Stadium.   
Four days after its commanding 3-1 victory at Chelsea to reach the final of the Champions League, Atletico was brought down by the modest Levante side that has outperformed expectations thanks to coach Joaquin Caparros' defensive focus. Goalkeeper Keylor Navas again played a key role as Levante was left in the middle of the table, turning away Raul Garcia's and Tobias Alderweireld's goal-bound strikes in each half.   
"We didn't want to mess up a title for anyone, I hope they (Atletico) win it," Barral said. "We want to finish the league in the best fashion we can. Playing teams like Atletico or Barcelona is always motivating, we wanted to win it for ourselves."   
Elsewhere, Ramon Azeez's last-gasp goal gave 10-man Almeria a 3-2 win at home over relegated Real Betis to help pull his team out of the drop zone.   
Almeria climbed to one point above the relegation zone, pushing Osasuna down to join Valladolid as the other two teams currently in danger to join Betis in the second division next season.