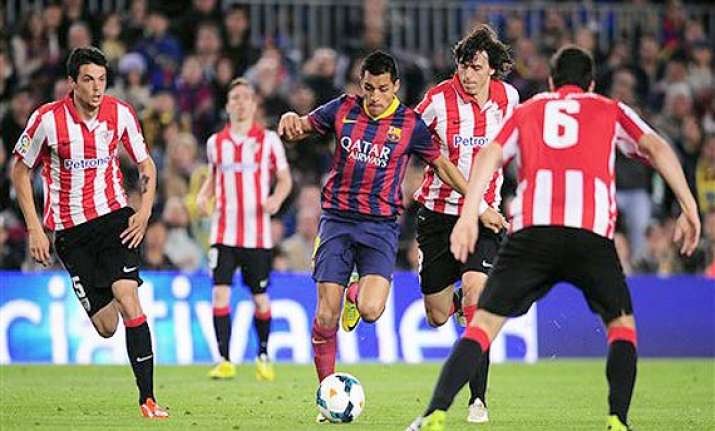 MADRID :  Athletic Bilbao secured its return to the Champions League next season by winning 3-0 at Rayo Vallecano on Friday to lock up a fourth-place finish in the Spanish league.
With Atletico Madrid, Real Madrid and Barcelona destined to take the top three spots, Bilbao fended off Sevilla's late surge to seal its return to Europe's top-tier competition for the first time since the 1998-99 season. The Basque side qualified for the playoff round to reach the group phase.   
"When I think back on how difficult this year has been, on how much we have won and lost, and to see this now, we have to enjoy it," Bilbao defender Mikel San Jose said while his teammates celebrated with a large group of their traveling fans.   
Bilbao's quest of reaching the Champions League was led by coach Ernesto Valverde, a former player who returned to coach the club a second time this summer after the exit of Marcelo Bielsa.   
Bilbao kept Rayo's attack in check while taking advantage of a number of well-executed set pieces.   
After Mikel Rico and Aritz Aduriz both went close with shots resulting from corner kicks, San Jose acrobatically tapped in a ball from Markel Susaeta in the 20th minute to open the scoring.   
Forward Oscar de Marcos added a second goal 10 minutes later when he fired in a loose ball from a fourth corner kick, and Ander Herrera curled his free kick around the defensive wall and in off the post in the 74th to cap the win.   
The match in Madrid was twice delayed due to incidents involving both groups of supporters.   
The kickoff was 15 minutes late to let the Vallecas Stadium grounds crew clean up a large amount of paper bits Rayo's home fans threw onto the pitch while festively celebrating before the game.   
The game was briefly stopped a second time after a barrier collapse in front of a section of Bilbao supporters following their team's second goal. TV images showed one man with what appeared to be a cut on his head. Another man needed to be carried off the pitch while he held his foot.