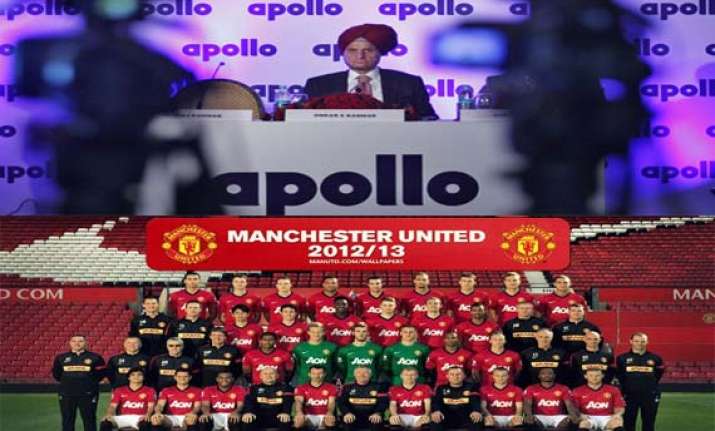 New Delhi: Tyre manufacturer Apollo on Wednesday became the second Indian company after telecom major Bharti Airtel to sponsor highly popular English Premier League (EPL) side Manchester United.
As a part of the three-year deal, Apollo will create football-based play zones, using recycled rubber, in local communities in Britain and India to encourage healthy lifestyles among youngsters. Apollo has also become the club's official tyre partner in Britain and India.
Apollo will build "Go The Distance" football pitches made from recycled tyres in local communities across the UK and India, with the first being on site (as part of a fan zone/play zone) at Old Trafford.
During Wednesday's launch event, Manchester United first team players Ryan Giggs, Rio Ferdinand and Jonny Evans participated in the "Go The Distance" skills challenges that will be similar to those featured on the new pitches.
Manchester United Group Managing Director Richard Arnold, said: "Apollo Tyres is a leading player in the tyre industry and its rate of growth and development into new territories made it an attractive partner for the Club. With a combined fan base close to 46 million followers in both the UK and India, we are confident in providing Apollo with a highly engaged audience, not only to promote its brand, but also to engage and communicate with our fans.
"This partnership also allows the Club to continue its on-going commitment to investment in and the development of young people, whether through our Academy or via the work we do in the community."
Onkar Kanwar, chairman, Apollo Tyres said: "This is a very significant partnership for us as a company and clearly demonstrates our global ambitions for our business, and the brand. Very few sports platforms deliver such global profile and awareness and we look forward to working closely with Manchester United over the coming years.
"It is a matter of great pride for us to introduce a new healthy living initiative under our corporate social responsibility (CSR), to create new play zones for the youth in the UK and India. In its aim to stimulate the next generations to 'Go the distance', this campaign really brings to life our brand values of high performance, quality and excellence."
Apollo Tyres is headquartered in Gurgaon and has a manufacturing presence in Asia, Europe and Africa. With revenues of over $2.34 billion, the company exports to over 100 countries.