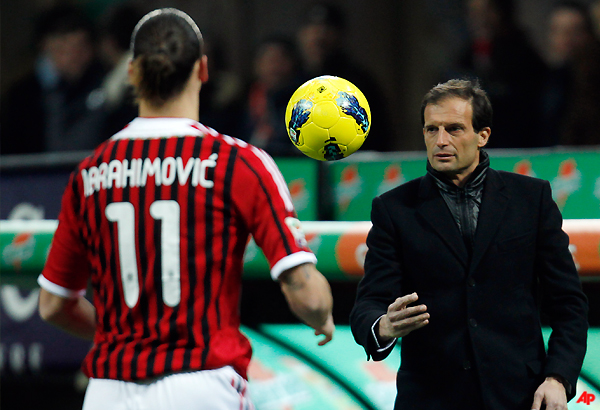 Milan, Feb 15: AC Milan coach Massimiliano Allegri is wary of Arsenal's strength in attack as the Serie A champions bid to end their poor run against English clubs in the last 16 of the Champions League.

Milan has been eliminated at this same stage of the Champions League by English clubs in three of the past four seasons, with Arsenal beating the Italian champions 2-0 at the San Siro in 2008.

Arsenal certainly poses a threat up front, with the Premier League's top scorer Robin van Persie in frightening form. Thierry Henry, who scored in his final league game against Sunderland at the weekend, is also looking to give the fans a parting gift in what will be his last match in a relatively successful loan spell at Arsenal before he returns to the New York Red Bulls.

"We need to have a game of great intensity, and we can't give them chances to counterattack because that's their strength," Allegri said on Tuesday. "Arsenal is playing very well lately and is very dangerous in attack. And one of Arsenal's best qualities is their speed, especially if they have enough room.

"Van Persie and Henry are very dangerous players, so we have to be aware of them, but it is the team of Arsenal as a whole that is the most dangerous."

Milan defender Thiago Silva, however, singled out Henry as the one he and his teammates need to pay most attention to.

"Henry is incomparable," he said. "Everywhere he has gone he has created history. We have to pay attention to Henry because every game he comes into he makes a difference, we have to pay attention to him because he's a great player.

"But if you talk only about one player, then tomorrow it might be another one (that makes the difference), so we have to pay attention to everyone."

Arsenal coach Arsene Wenger says his team will go in search of a potentially crucial away goal, although he admits he is worried the state of the San Siro pitch could hinder the Gunners' attacking threat down the flanks.

"We will try to play our game," Wenger said. "I'm a bit worried about the pitch, it doesn't look exceptional, we hope tomorrow it will be better. It has been re-laid on the flanks and it takes a bit of time to settle and at the moment it hasn't. They told me tomorrow night it will be much better."

Milan lost 1-0 at home to Tottenham last year before being held to a goalless draw in the away leg and Allegri knows his team cannot afford to concede on Wednesday.

"We made mistakes in the second half at home last year, we need to try to eliminate them," Allegri added. "We must not make mistakes in defense and try to play well in attack, knowing that it's two-legged, so we need to take that into account in our game.

"Last year we played two very good games and we definitely deserved to win the second leg and go through. I'm very confident we'll go through this time."

Thiago Silva added: "If you go wrong in the home game then you're out."

Milan heads into the Arsenal match in high spirits, having regained its position atop Serie A with a 2-1 victory at Udinese on Saturday, and with its lengthy list of absent players finally starting to relent.

Christian Abbiati, Alessandro Nesta, Kevin-Prince Boateng, Alexandre Pato, Mathieu Flamini and Mario Yepes have all returned to training — although the latter two have not been included in the 21-man squad — while Sweden striker Zlatan Ibrahimovic is back from a domestic ban.

"It's very difficult to say if they'll play or not because they've only done two or three training sessions with the squad so we'll have to see," Allegri said.

"What's certain is that seeing as Boateng's been out for four weeks, he won't start from the beginning and that's the same for Pato. But to have them available is a good thing."

Arsenal will be without Per Mertesacker after the Germany defender damaged ankle ligaments at the weekend, but the Gunners are otherwise unchanged. Only Bacary Sagna is likely to start from the side that beat Milan in 2008 and Wenger hopes that another impressive result will give his young team the confidence needed to push again for top honors.

Arsenal is currently 17 points behind league leader Manchester City and once again out of the title race.

"Milan won the cup the year before (we played them last) and we knocked them out," Wenger added. "We had an upcoming team full of confidence, we were top of the league in England. Since then we have lost some players but we are again a strong team now. We are rebuilding confidence and I feel tomorrow's game will be important for that.

"We have shown we can win everywhere and I have full confidence in this team to do it. If I didn't feel we could win I'd stay at home, I don't like wasting my time. "

Arsenal have come out on top in four of its past six visits to Italy and have happy memories of San Siro as, before the win over Milan, it also beat Inter Milan 5-1, with a certain Henry striking a hat-trick that day.