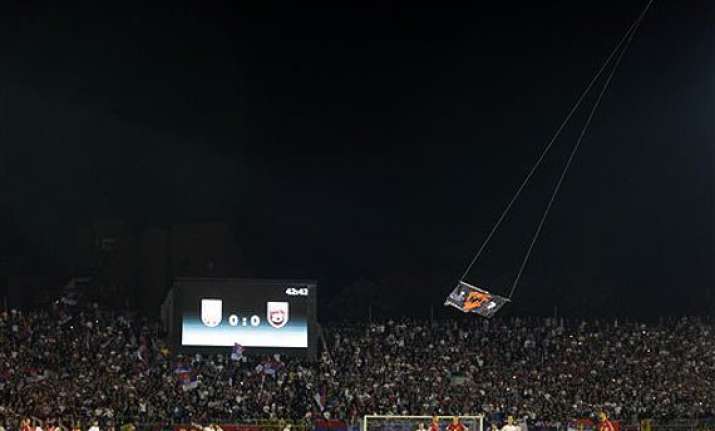 Tirana, Albania:  Albania's national soccer team returned home to a heroes' welcome Wednesday after a game in Serbia that was abandoned after an Albanian nationalist banner was flown by a drone over the stadium, sparking violence between players and fans.
   
The referee halted the scoreless European Championship qualifying match in the 41st minute Tuesday night when a Serbian player grabbed the banner  which carried a map of Albania enlarged to include chunks of its neighbors   and Albanian players tried to protect it. Serbian fans then ran onto the field and clashed with Albanian players.
   
At the start of the match, the Albanian anthem was loudly jeered by Serbian fans and derogatory chants were heard throughout the first half. Serbian supporters also threw flares at the field.
   
Fans of both nations have a long history of violence and racial abuse. Albanian fans had been warned against attending Tuesday's game in Belgrade due to their nations' turbulent relations, mainly over the former ethnic Albanian-dominated Serbian province of Kosovo, which declared independence in 2008. Serbia has never accepted Kosovo's independence.
   
Up to 3,000 flag-waving supporters gathered outside Tirana's airport early Wednesday to cheer the team. Prime Minister Edi Rama, who is abroad, praised players on his Twitter page for "the pride and joy they gave us," and said he was "present in my heart" at the airport reception.
   
Albanian Foreign Minister Ditmir Bushati tweeted that "Football should not be highjacked by extremism," adding "Proud of our (hash)Albania team: showed courage and maturity."
   
Albania goalkeeper Etrit Berisha thanked the fans for the welcome, writing on his Facebook page that "defending our national symbols is a duty for us!"
   
Captain Lorik Cana said the team "unanimously decided" not to continue with the game. "We considered our physical situation, with some injured players, which was not good," he said, adding that players also felt threatened. "Our situation was clear, we could not continue the match. And the security situation was not adequate either."
   
Cana said players "showed our neighbors we know how to respect them and also walk ... with our heads high."
   
Rama, the prime minister, is scheduled to visit Belgrade next week, the first by an Albanian prime minister in 68 years. It was not clear if that trip was still on.