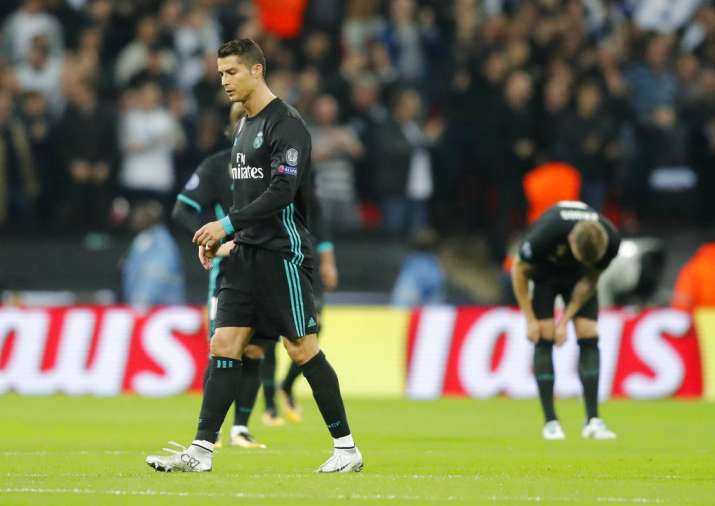 A loss to newcomer Girona in the La Liga and now a heavy defeat to Tottenham Hotspur at Wembley in the UEFA Champions League group matches have left the Vikings in a tough spot which they haven't been in a long time. It has been 44 games since Madrid lost a match in the Champions League but two consecutive losses mean that the players and the coach will face some tough questions which needs to be answered. 
A wave of criticism recently surrounds the Los Blancos, despite the usual squad playing. Ronaldo's abilities are in doubt after his conversion rate of scoring has gone down since the start of the season. The FIFA Best player winner managed to salvage the scoreline by netting in a tap-in from a header in the last minutes of the match against Spurs at Wembley. 
Ronaldo, Zidane and captain Sergio Ramos had their say about the losses.  With Madrid 8 points behind arch-rivals FC Barcelona, questions will surely be raised as to whether the defending league champions will be able to retain their title. The players and the coach aren't worried about the current situation and commented that they will bounce back soon enough. Although Cristiano Ronaldo dismissed talk of a crisis and coach Zinedine Zidane said he is not worried, they both admitted that there's some work to do to get Madrid back on track.
"We are not going to play well every time," Ronaldo said after Tuesday's 3-1 loss in England. "We have to change things and admit that we are not where we wanted to be right now."
Zidane said it will take some time to restore the team's morale after the consecutive losses.
"It's two defeats in a row and we can't be happy about it," Zidane said. "It's a difficult moment but you have to accept it. We have to keep our heads cool because this is soccer and we have a lot of games to play and there's still a lot of time to turn things around, and that's what we will do."
Madrid remains in good position to advance from Group H in the Champions League, and it can do it with a victory at APOEL later this month.
But the team is already eight points behind leader Barcelona in the Spanish league, a deficit it has never been able to overcome. Madrid had won four in a row in the league before last weekend's loss at Girona, but it got off to a slow start in which it failed to win its first three home games.
Madrid is defending both the Spanish league and the Champions League titles this season.
"We have to stay calm," Ronaldo said. "Things are not as bad as they look. The team is not playing that badly, so we must remain confident. We have to think positively because it's the end of the season that counts, not the beginning."
Zidane blamed the team's letdown on its numerous missed opportunities in front of goal.
"There are moments in a season when you score goals from very few chances, and others when you struggle to do that," the former France midfielder said. "We have been creating opportunities but we are not being able to capitalize on them."
Zidane said he has a group of experienced players who will be able to quickly steer the team back in the right direction.
Ronaldo would have liked to see even more experience in the team at a moment like this. He said some of the players that the club let go in the offseason could have been making a difference right now, including Pepe, Alvaro Morata and James Rodriquez.
"The new players who came to the squad have a lot of potential and they are the future of Madrid," said Ronaldo, who scored the team's goal on Tuesday at Wembley. "But if you ask me, every great player is always needed by a club, and Pepe was a great player, and Morata, James ... All players who have left used to make us a stronger team, obviously."
Madrid defender Sergio Ramos said it's natural for fans to be upset with the team's recent struggles, but warned that nobody should count them out just yet.
"When Madrid loses a couple of games there's always talk about a crisis," Ramos said. "But we have to remain calm and united. We are convinced that Madrid will overcome this very soon. Madrid always fights back, and if people think that we are done, time will show them wrong."
(With AP Inputs)