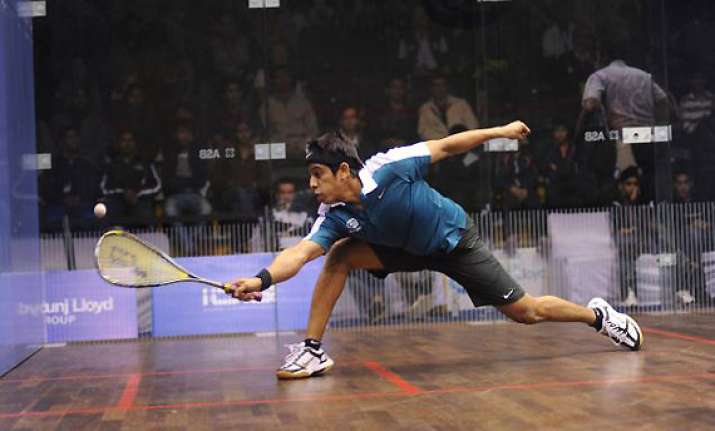 Manchester: Saurav Ghosal etched his name into the history books by becoming the first Indian to reach the quarter-finals of the AJ Bell PSA World Squash Championship, the most prestigious men's competition. World No.17 Ghosal came from two games down to record a famous win over 40th-ranked Henrik
Mustonen of Finland in a thrilling pre-quarter-final Wednesday. The final score read 5-11, 8-11, 11-8, 11-4, 11-2.
He faces World No.1 Ramy Ashour of Egypt in the quarter-finals Thursday night.
"Personally for me it's a massive achievement. It was really an emotional win considering the significance of the contest. It's huge to be in there in the last eight with the world's best players," Ghosal, who is lone unseeded player left in the draw, told IANS.
"To come from 0-2 down, dig deep, and come back was very pleasing as well, especially as Henrik was playing some amazing squash."
Ghosal's previous tournament best was a round of 16 finish in 2012.
Victory against Mustonen followed triumphs over number 15th ranked Alister Walker of Botswana and England's Joe Lee.
"Hopefully this achievement will give some motivation to the Indian players coming behind me and encourage them to keep playing well and working hard," said the eight-time national Champion.
Asked about his chances against defending champion Ashour, Ghosal said: "I am in the quarters of the world championship. I must go for the win, right? Hopefully, I play to me potential."
Ashour secured his expected place in the last eight for the third year in a row when he beat Australian Cameron Pilley.
But the 14th seed from New South Wales played one of his best ever matches against the dominant Egyptian and soon opened up a one-game lead.
Ashour found his form in the second and third and reclaimed the advantage.
But World No.13 Pilley, who had never before beaten his illustrious opponent in eight meetings over the past five years, was not about to lie down - and was a point away from levelling the match at 10-7 in the fourth.
But Ashour clawed back the deficit and clinched his first match ball to win 9-11, 11-8, 11-4, 12-10 in 62 minutes - thereby extending his unbeaten run to 48 matches since May last year.
Results (pre-quarter-finals):
Ώ] Ramy Ashour (EGY) bt ⎚] Cameron Pilley (AUS) 9-11, 11-8, 11-4, 12-10 (62m)
Saurav Ghosal (IND) bt Henrik Mustonen (FIN) 5-11, 8-11, 11-8, 11-4, 11-2 (66m)
Ζ] Amr Shabana (EGY) bt ⎜] Miguel Angel Rodriguez (COL) 11-6, 11-5, 11-9 (37m)
Β] Nick Matthew (ENG) bt ⎗] Omar Mosaad (EGY) 11-4, 11-7, 11-13, 11-4 (71m)
Α] James Willstrop (ENG) bt Η] Borja Golan (ESP) 11-4, 11-8, 11-6 (48m)
Δ] Mohamed Elshorbagy (EGY) bt ⎘] Simon Rosner (GER) 11-1, 11-9, 11-7 (41m)
⎙] Daryl Selby (ENG) bt Γ] Karim Darwish (EGY) 4-11, 11-9, 12-10, 8-11, 11-8 (85m)
ΐ] Gregory Gaultier (FRA) bt ⎖] Tarek Momen (EGY) 11-5, 11-6, 11-6 (45m)