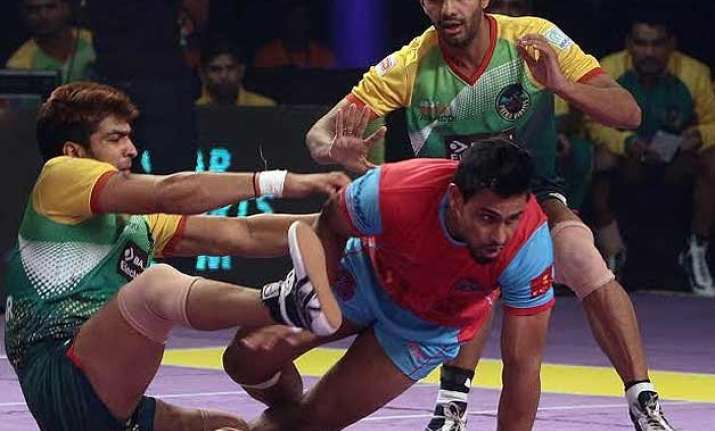 New Delhi:  The game of Kabaddi took a professional touch with the launch of Pro Kabaddi League (PKL) and it has become very successful sporting event within a year of its launch. The tournament is held with eight teams participating in the league.
Let's have a look at some of the players who struck a fortune with the introduction of the league.
1) Rakesh Kumar ( Jaipur Pink Panthers, Rs 12.80 lakhs): Two-time Asian Games gold medal winner Rakesh Kumar emerged as the top money earner and was bought for Rs 12.80 lakh by Jaipur franchise Pink Panthers.
Kumar who is an employee of Northern Railways and was part of the Indian men's gold winning squad at the 2006 Qatar Asian Games and the 2010 Guangzhou Asian Games.
2) Deepak Niwas ( Telegu Titans, Rs 12.60 lakhs): In second place was raider Deepak Niwas of Sports Authority of India who was bought for Rs 12.60 lakh by Telugu Taitans (Vishakapatnam).He was selected by the management of Telugu Titans after  his  performance at senior level tournament at Patna in 2014, where he won a gold medal.
3) Surjeet Narwal ( Dabangg Delhi, Rs 12.20 lakhs): Born in 1990, Surjeet was picked by Dabbang Delhi in Prokabbadi league as a raider. His co-players in the team says that Narwal is one of the most feared and respected players in the country and is a big asset for the team.
4) Ajay Thakur( Bengaluru Bulls, Rs 12.20 lakhs): The raider who originally hails from Himachal Pradesh is one of the most finest and quikest players in the PKL and is one of the key player of the Bengaluru Bulls team.
He was also a member of the Indian Kabaddi team that won the Gold medal at the Asian Games in 2014 held at Incheon, Korea. Ajay brings over 14 years of experience in playing aggressive kabaddi.
5) Surjeet Singh (Bengal Warriors, Rs 12.00 lakhs):  24 year old raider Surjeet Singh  belongs  from Haryana has already won India a Gold in the Asian Indoor games held in 2013. Surjeet represents the Indian Navy and is known for his dashing raids.
6) Gurpreet Singh ( Bengaluru Bulls, Rs 11.80 lakhs): He has represented the Indian Kabaddi team at both national and international levels with gold medals at the National Championships and South Asian Games. He has a experience of over 16 years, he is an outstanding defender who has played for Punjab State. He currently employed with the Punjab Police.
Gurpreet Singh is known as "The Wall", he is one of the most senior and respected players within the team.
7): Navneet Gautam ( Jaipur Pink Panthers, 11.20 lakhs):Navneet Gautam hails from Rajhasthan and is one of the few players to represent the home franchise in the PKL. He is quite a popular face in the game of Kabbadi.
He has won gold medals  in the 2006, 2010 and 2014 Asian Games. He as a defender plays a vital role for his side and also gives no chance for the opponent players to escape from his grip. He was also part of the all-conquering Indian team that won the World Cup and Indoor Asian Games in Vietnam and Macau.
8) Jasmer Singh ( Dabanngg Delhi, Rs 11.20 lakhs): Jasmer's love for the game of Kabaddi was reflected at the age of nine years only. He was the first player from his district to earn a place in the national team in 2005.
Despite working as a police inspector, he takes some time to practise regularly for the game which goes on to show his seriousness for the game. He takes time out every morning and post work to practice.
9) Wazir Singh (Puneri Paltan, Rs 10.60 lakhs): Wazir was picked by the Pune price for an amount of Rs 10.60 lakhs.He plays for India and has won Gold at Asian championship 2005 and silver at South Asian beach games 2011. He is currently employed as a sub inspector with CISF.
10) Shahbeer Bapu Shaffudheen (U Mumba, Rs 10.60 lakhs): The 29 year old raider was picked by U Mumba who is working as a cleark in the state Bank of Mysore. Shabeer Bapu  hails from Palakkad a very small village of Kerala. He has secured 61 points in the first  edition of PKL. He was the standout performer in the first ever season of Pro Kabaddi League in 2014 and picked up two 'best raider' trophies.