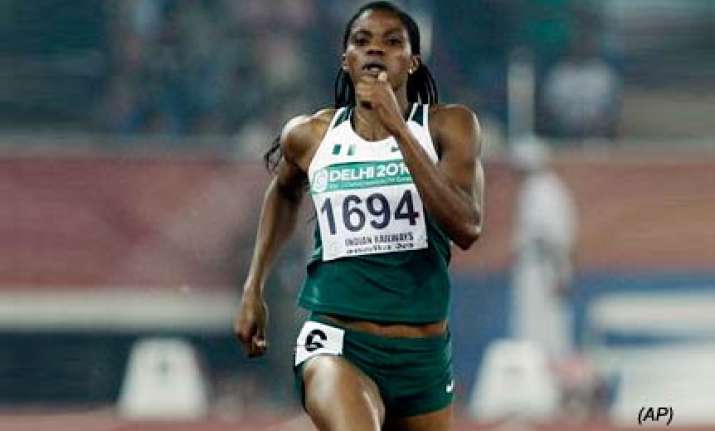 New Delhi, Oct 15: Doping continued to dog the Commonwealth Games as Nigerian runner Folashade Abugan was today stripped off her women's 400m and 4x400m relay silver medals in the just-concluded event after testing positive for a banned anabolic steroid.
With this, the number of dope-tainted athletes in the Games has gone up to four with three of them being Nigerian.
"Nigerian runner Folashade Abugan, returned an adverse analytical finding from a test conducted on October 8, 2010, after competing in the women's 400 metre final," the Commonwealth Games Federation said in a statement.
"Ms Abugan's 'A' sample was found to demonstrate findings consistent with an exogenous origin of endogenous steroids. The delta values indicate an application of testosterone prohormone, which is prohibited under the current WADA Prohibited List S1 Anabolic Agents," the statement read.
Abugan admitted her guilt after refusing to have her B sample tested.
"Ms Abugan wrote to the CGF waiving her rights to have her 'B' sample analysed and a hearing, as provided for within the CGF Anti-Doping Standard (ADS). She also admitted liability," the CGF statement said.
The Federation Court concluded that Abugan had committed an anti-doping rule violation and disqualified here from all events she participated in during the Games, with the results nullified.
"This includes her silver medal in the women's 400 metres. As she was also a member of her country's second placed 4x400 metre relay team, that result is also nullified," the CGF said.
The silver medal for the woman's 400 metres will now be awarded to Aliann Tabitha Pompey of Guyana, with the bronze medal going to Christine Amertil of the Bahamas.
Her disqualification from the women's 4x400 metre relay, Nigeria's silver medal will now be awarded to England and the bronze medal to Canada.
The England relay team comprised Kelly Massey, Victoria Barr, Meghan Beesley and Nadine Okyere.
The members of the Canadian relay team were Amonn Nelson, Adrienne Power, Vicki Tolton and Carline Muir.
"In accordance with the CGF Anti-Doping Standards the documents pertaining to Ms Abugan have now been referred to the IAAF and WADA for whatever additional action they consider appropriate," the CGF said.
Earlier Nigeria's Osayomi Oludamola was stripped of her gold medal in the 100 meters after testing positive for methylhexanamine, a banned stimulant.
Nigerian hurdler Samuel Okon, who did not win a medal, had also tested positive for a banned substance. PTI