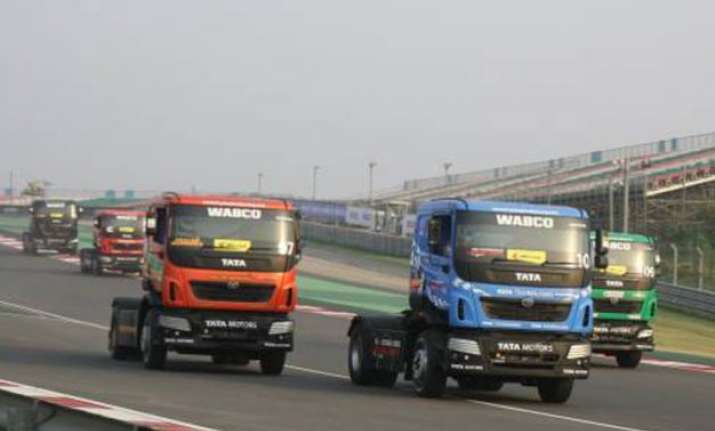 Greater Noida: As world's fourth largest truck manufacture, TATA Motors, with this unusual concept of T1 truck racing in India, aims to inspire the succeeding generations to take up Truck driving as an inspirational profession as well as address the scarcity of young skilled truck drivers in India.
And in a bid to fulfill it, the company (TATA Motors) which boasts of India's largest automobile company, organized T1 Truck Prima Racing 2015 on March 15 at Buddha International Circuit, Greater Noida.
 
The gala event was organized by an event management company T.I.C. under the leadership of MD Gaurav Dhall. It conducted a pan India marketing plan since January (two month prior to the event) to make the event an overwhelming success like in the year 2014.
The action-packed, rain-hit Season II of T1 Prima Truck Racking was witnessed by approx 35,000 crowds. The edge-of-the-seat excitement for overtaking and high speed corners had the audience roaring with each twist and turn.
 
In the end, last year winner Stuart Oliver of Team Castrol Vecton again retained his Tata Motors T1 Prima truck racing title. Steve Thomas of Team Allied Partners and Steven Powell of Team Tata Technologies finished on second and third position, respectively.
 
"It was an amazing experience. I think one thing I want to say is a big huge thank you to all the fans coming out all this way, all the flags, all the caps, everything, it made such a difference this weekend," said Oliver after winning the race.
 
The massive and powerful Tata Prima race trucks proved to be a treat for motorsports fanatics who were amazed at the sight of racing mammoth's competing with each other. The event saw actor Manish Paul as a host, soulful performance from music group Shankar, Ehsaan & Loy, along with hardcore rapping from Badshah and Benny Dayal and Harley Davidson bike race, etc kept the audience entertained.