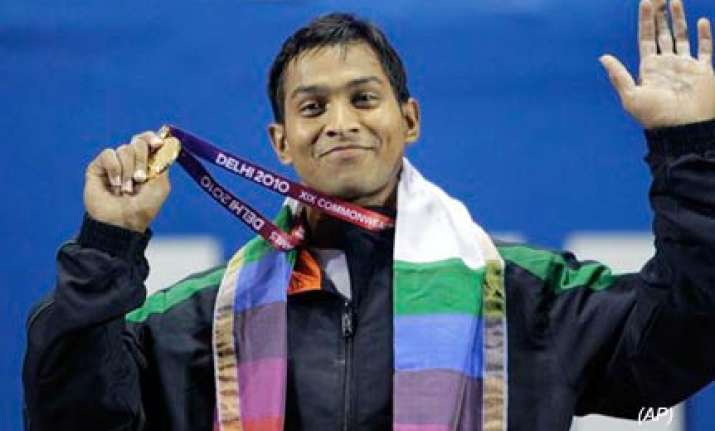 New Delhi, Oct 6: India's K Ravi Kumar created a new Commonwealth Games record with a total lift of 321kgs as he grabbed gold in the 69-kg category in the weightlifting competition here today.
The Orissa lad proved too good for his opponents as the second best finish was of 308 kgs.
Sri Lanka's Chinthana Vidanage took the silver medal, while Mohd Hafifi Mansor of Malaysia bagged bronze with a total lift of 306 kgs.
From the very beginning, Ravi Kumar looked set to dominate the competition as he topped the snatch event with a lift of 146 kgs, which was also a Games record.
Hafifi Mansor ended with 137 kgs and the Chinthana Vidanage lifted 134 kgs in snatch.
Thereafter, at the clean and jerk event also, the 22-year-old Indian lifted 167 kgs in his very first attempt to put on a total of 313 on board, while his closest two competitors were hovering around 306 to 308 mark, aiming a maximum of 310 kgs.
Sri Lanka's Vidanage created rewrote clean and jerk record when he lifted 174 kgs.
But his record could not stand long as Ravi lifted 175 kgs in his third and final attempt.
Ravu is now a record holder in all three categories snatch, clean & jerk and total of the two. PTI