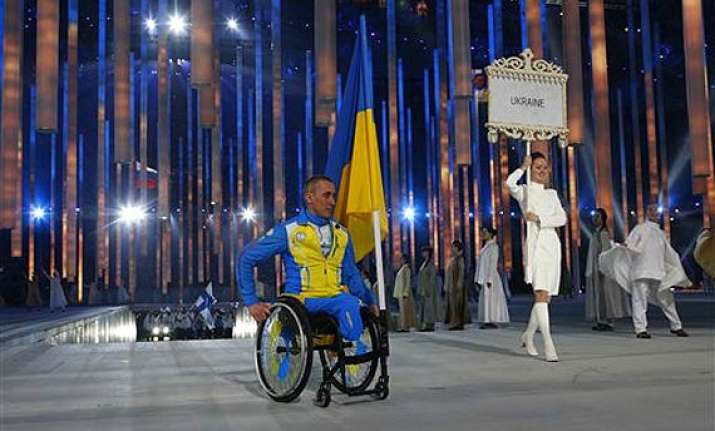 SOCHI, Russia:  With a solitary Ukrainian athlete taking part in the opening ceremony, Russian President Vladimir Putin opened the Winter Paralympics in Sochi on Friday against the backdrop of his country's military action in Crimea.
Ukraine delivered a pointed message by sending out only a single flag-bearer to represent the 23-strong team in the athletes' parade, an apparent protest at the presence of Russian troops in Ukraine's Crimean peninsula.
The appearance of the flagbearer, biathlete Mykhaylo Tkachenko, drew a roar from the capacity crowd at the Fisht Olympic Stadium. Entering in a wheelchair with the Ukrainian flag, he wore a serious expression and displayed no emotion.
The Ukrainian team had announced only a few hours earlier that it would not boycott the games, but said it could pull out of the 10-day event if the Crimea situation escalates.
"I declare should this happen we will leave the games," said Valeriy Sushkevich, president of the Ukrainian Paralympic Committee. "We cannot possibly stay here in this case."
A lavish ceremony based on the mythical firebird of Russian folklore marked the start of the 11th Winter Paralympics, which features 547 athletes from 45 countries. It's the first time the event has been held in Russia and comes less than two weeks since the close of the Winter Olympics in Sochi.
"I declare open the Winter Paralympic Games 2014, Sochi," Putin said at the ceremony, which was snubbed by many Western political leaders and dignitaries.
In a separate statement distributed by games organizers, Putin said: "We are proud that our country has been entrusted with the honor to hold this unique event, which has no equal for its inspirational force.
"I wish all of the athletes success and all the best."   
Competition begins Saturday with Alpine skiing, biathlon, curling and hockey events. A Winter Paralympic record 72 gold medals are on offer.   
Ukraine's decision not to boycott the games came after discussions between team officials and athletes over whether to pull out in light of the crisis back home and Russia's takeover of the Crimean peninsula.
Ukraine's decision to compete was welcomed by the International Paralympic Committee.