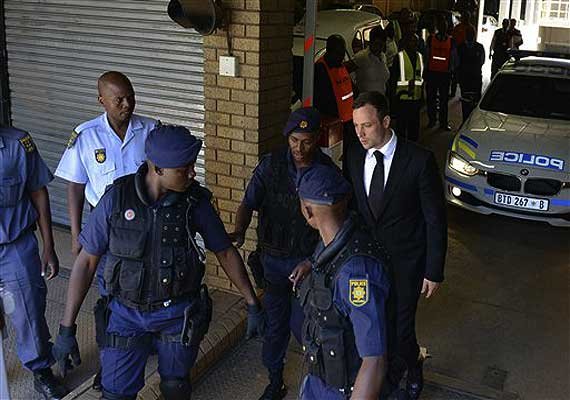 Pretoria:  South African state prosecutors today said they would appeal the verdict and five-year jail term handed down to fallen track star Oscar Pistorius over the killing of his girlfriend last year.
The "NPA (National Prosecuting Authority) will be appealing both the conviction and sentence," spokesman Nathi Mncube said. Pistorius began a five-year prison stretch on October 21 after being found guilty of culpable homicide, a charge equivalent to manslaughter.
But trial judge Thokozile Masipa found there was not enough evidence to convict the 27-year-old Paralympic and Olympic athlete of premeditated murder.
Her verdict angered the state prosecution, which had sought to prove that Pistorius deliberately shot dead 29-year-old Reeva Steenkamp on Valentine's Day last year.
Details of the appeal have not yet released, but South African criminal lawyers had expressed shock that Masipa found that Pistorius could not have foreseen that someone would die when he fired the shots that killed Steenkamp.
Legal experts complained that the ruling could open the door to systematic abuse of the legal system, or to people believing it would be okay to shoot in an irresponsible manner.
Steenkamp was shot four times through a locked toilet door at Pistorius's upmarket Pretoria home in the early hours of February 14, 2013.
The double-amputee athlete alternatively told his seven-month trial in a Pretoria court said he believed there was an intruder and that he did not consciously fire his pistol.
"The appeal on conviction is based on the question of law," Mncube said in a statement. "The merits and the demerits of the NPA's argument in this regard will become evident when we file papers for leave to appeal."
"The prosecutors are now preparing the necessary papers in order to be able to file within the next few days." Lawyers said they were not shocked by the state's decision. "It's not a surprise," said Wits University law professor Stephen Tuson, pointing to the question of intent or "dolus eventualis".
South Africans had also criticised the  five-year sentence as too lenient after it emerged Pistorius may be eligible for parole in less than a year.