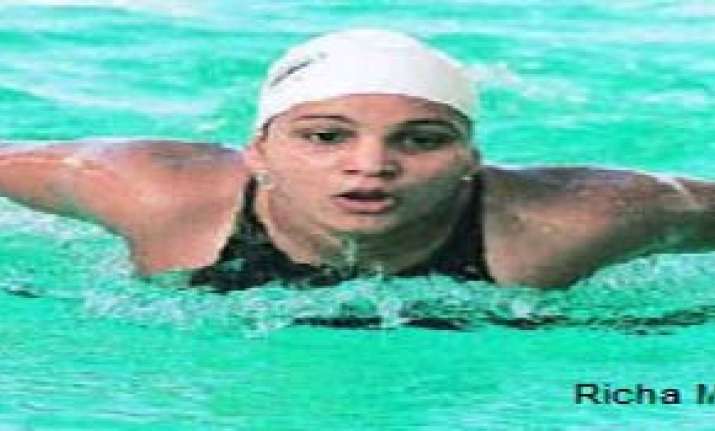 Ranchi/Jamshedpur, Feb 14 :  Madhya Pradesh won three gold medals to consolidate their position in the standings while Richa Mishra hogged the limelight with four yellow metals to her name after day two of the 34th National Games here today.
International swimmer and national record holder Sandeep Sejwal, who is representing Madhya Pradesh bagged one gold while Arjun Singh Rawat and Shalu Raikwar bagged two more to help the state dominate the Games with nine gold, seven silver and 12 bronze medals.
Manipur added two gold to be on second spot with 8-4-8,while Delhi riding on another superlative performance by Richa  climbed to the third position in the table with 5-3-2.
Swimmers smashed four meet records as Richa added two more gold medals to make it four in total at the Veer Budhu Bhagat Aquatic Stadium in Mega Sports Complex in Ranchi.
Raising the Games standards by leaps and bounds, Sandeep Sejwal, Gagan A P, Richa and Karnataka's 4x100m men's relay team wrote four new meet records in swimming.
Richa clinched the 800m freestyle with a record timing of 09.24:45s thus shattering the previous Games record held by Surabhi Tipre (09.25:30).
Maharashtra had a silver-bronze finish when Aarti Ghorpade (09.48:71) finished ahead of Rujuta Bhatt (09.51:17).Richa swam 02.49:58 in 200m breaststroke en route to her second gold, while Poorva Shetye of Maharashtra (02.52:31) and Tamil Nadu's A V Jayaveena (02.53:09) took the silver andbronze respectively.
Representing Madhya Pradesh, international swimmer Sejwal shattered the Games record by a big margin in the 200m breaststroke. Sejwal clocked 02.17:53 to smash his previous record of 02.26:80.
Puneet Rana of Haryana clinched the silver with a timing of 02.24:42 that itself was better than the previous meet record, which can be a pointer to the raise of bar over the years as the National Games is being held after a gap of four years.
Punjab clinched a bronze courtesy Jashandeep Singh in the same event with a timing of 02.28:28.Promising Karnataka youngster Gagan A P stunned national record holder Mandar Divase with a fine performance to claim the 1500m freestyle with record timing.
Shattering the four-year old record by Rohit Havaldar (16.24:54), Gagan clocked 16.15:54 en route to the gold medalas Divase of Maharashtra (16.41:07) and Delhi's Merwyn Chen (16.50:24) settled for silver and bronze each.
Himanshu Tiwari of Uttar Pradesh won high board diving with 260.85 points, while Keshav Shinde of Maharashtra (252.45) and Services Kartik Shaw (235.90) settled for silver and bronze respectively.
Karnataka quartet of Ashwin Menon, Aditya Roshan, Arjun JP and Rohit Havaldar set the fourth record of the day when they clocked 04.02:21 en route to the gold in the 4x100m medley relay as teams from Services (04.05:25) and Maharashtra (04.10:83) bagged the silver and bronze respectively.
Maharashtra women's team of Aarti Ghorpade, Poorva Shetye, Rujuta Bhatt and Aditi Dhumatkar clinched the 4x100mmedley relay with a timing of 04.43:09. Tamil Nadu (04.51:90) and Karnataka (04.59:06) settled with silver and bronze finish respectively.
The SSCB reaped a rich harvest of three gold medals,while Madhya Pradesh bagged two to swell their medals tally as eight finals were held in taekwondo competition at the Ganpat Rai Indoor Stadium in Mega Sports Complex.
M Oken Meitei, A Naobi Singh and Ibrahim Khan of Services defeated Goa's Chandan Lakra, Manipal Singh of MP and Haryana's Navjeet Maan in the U-68kg, U-74kg and U-87kg men's bouts respectively for the three gold medals.
Arjun Ravat (U-58kg, men) of Madhya Pradesh overpowered SSCB's A Pradeep Singh while Shalu Raikwar won the women's U-73 bout against Karnataka's B Varsha.
Jharkhand's Tasin Begam outclassed Maharashtra's Purva D Dixit in the women's U-49kg, while P Rekha Devi of Karnataka knocked down Shristi Singh of Uttar Pradesh in the women's U-62kg category.
Manipur's Yumnam Shantibala Devi won the U-57 kg final against Aarti Khakal of Madhya Pradesh.Manipur and Haryana bagged one gold each in the wushu competition at the Thakur Vishwanath Shahdeo Indoor Stadium in Mega Sports Complex.
M Sadananda logged 9.59 points to beat M Gyandash Singh (8.76) of the Services Sports Control Board for the gold as local lad Th Modun Maring (8.41) settled for the bronze in the taijiquan men event.
In taijiquan women's event, Manipur's L Sanatombi (8.69) pipped K Rita Devi of Uttar Pradesh (8.59) for the gold, while Kh Bidyashwori bagged the bronze to swell the medals tally for meet leaders Madhya Pradesh.
Maharashtra defeated Haryana in the Rugby 7s summit clash to win the gold medal while Delhi won the bronze finishing third in the competition held at Birsa Munda Football Stadium in Morhabadi area of Ranchi.In the equestrian meet held at Gopal Maidan of Jamshedpur, Services riders Maj Kishan Yadav, Mahesh Patil, P J Sakpal and R N Shinde exhibited fine skills to win the tent-pegging gold with 112 points as Haryana and Bihar settled for silver and bronze respectively.
Tamil Nadu and Kerala virtually moved into the knock out round winning their second successive games beating Karnataka and Services respectively in the men's Volleyball group matches at Harivansh Tana Bhagat Indoor Stadium in Mega Sports Complex.
Tamil Nadu dominated the karate-do ring bagging two gold medals at the Shiekh Bhikhari Administrative Block, Mega Sports Complex.
The karate-do competition also saw Bengal and Meghalaya win their first gold medals while another yellow metal was won by Haryana.
Ashok Kumar of Tamil Nadu defeated Damang Syngkong of Meghalaya en route to the gold in the kumite men's under 55kg category, while Lal Rang Bawla of Mizoram and Devanand Baskey of the hosts made semifinal exits to settle for bronze medals.
P Pavitra earned the second gold for Tamil Nadu which came in the kumite u-68kg category when she defeated Maharashtra's Sandhya Shetty in the final.
Haryana's Rekha and Debia Yakap of Arunachal Pradesh settled for bronze medals.Kunal Dey earned Bengal the first gold of the 33-discipline meet when he knocked down Madhya Pradesh's Vikas Sharma.
Manipur's Mohammad Noor Khan and Andhra's Tam Tapak bagged the bronze medals.Meghalaya's first gold also came in the competition when Linza Syiew defeated Manipur's Sharmila Garu in the women's kumite u-55kg category.
Karuna Malik (Tamil Nadu) and Supriya Jatap (MadhyaPradesh) settled for the bronze medals.Haryana's Sunil Rathee outplayed Afzal Khan of Madhya
Pradesh for the gold medal in the men's kumite 84kg where Gaurav Sharma (Uttar Pradesh) and Amit Yadav (Maharashtra) settled for the bronze medals. PTI