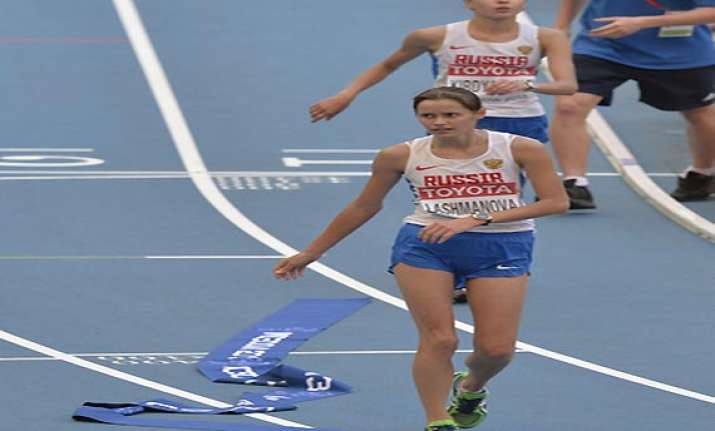 Moscow: Russia's London Olympics champion Elena Lashmanova led a one-two finish for the hosts in the women's 20-kilometre walk at the IAAF World Championships here on Tuesday.
India's Khushbir Kaur finished 39th out of 57 who completed the distance. Her effort of 1:34.28 was her personal best and a national record.
The 21-year-old Lashmanova, who set a world record while securing the Olympic gold in London last summer, clocked one hour, 27 minutes and eight seconds to claim the title. Lashmanova has been enjoying a splendid 2013, as she clocked a season's best of 1:25:49 to land the Russian title in Sochi and has secured IAAF Challenge victories in Rio Maior and Sesto San Giovanni.
Anisya Kirdyapkina, gold medallist at the World University Games in Kazan last month, finished three seconds behind her compatriot. China's Liu Hong, the 2009 world bronze and 2011 world silver medallist, clocked 1:28:10 to take the bronze.
The hosts could have enjoyed a podium sweep but Vera Sokolova, European Cup runner-up, received the third warning and was disqualified in the final kilometre when she was chasing the leading duo.
"I am happy to win a gold medal in the capital of my home country. I am even happier that we've made it the Russian 1-2. It's a pity that Sokolova was disqualified near the stadium in the end of the race. It could have been the three of us on the podium," said Lashmanova.
"The judges did not really explain to us that we should do one lap before the home straight and finish. That's why I stopped for a second at the stadium, but I quickly understood I should keep going," said Lashmanova, who believed she had crossed the "finish line" in a state of confusion when she still had another lap to cover.
Momentarily celebrating her success, she was then told to carry on a further lap of the Luzhniki Stadium but made the same mistake again on the top bend, allowing Kirdyapkina, bronze medallist in Daegu, to narrow the gap to only three seconds on the time sheets.