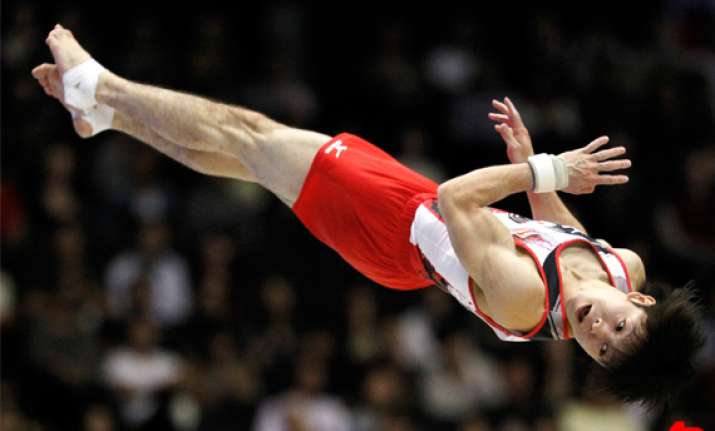 Tokyo, Oct 15: McKayla Maroney gave the Americans a sweep of the first three gold medals by winning the vault title at the world gymnastics championships Saturday, while Japan's Kohei Uchimura took his second gold of the event.

But neither the Americans nor Uchimura—who added the floor exercise gold to the all-around title—could add to their stash.

Viktoria Komova of Russia finally got her gold, winning uneven bars after going home with silvers in the all-around and team competition.

Chen Yibing of China proved he really is "Lord of the Rings" with his fourth title on still rings—he's also the Olympic champion—and Hungary's Krisztian Berki won his second straight title on pommel horse.

Uchimura finished fifth on pommel horse after a fall and was sixth on still rings.

The U.S. women had won the first two gold medals awarded: the team title and Jordyn Wieber in the all-around. Maroney made it a clean sweep, and gave the United States its third straight vault title after Kayla Williams and Alicia Sacramone.

"So proud you kept it in the country! thats my girl!" Sacramone said on Twitter. Sacramone was unable to defend her title after tearing her Achilles tendon Oct. 6 during training.

Uchimura's routine wasn't as flawless as the one he did Friday, when he landed every one of his tumbling passes. But he got such great height on his tumbling passes the folks in the lower bowl of the Tokyo Metropolitan Gymnasium had to crane their necks to see him, and he did one difficult skill after another, drawing appreciative applause from the fans.

Uchimura took a big hop back on his last pass, and shook out his legs as he walked off the floor. He's been bothered by sore legs throughout the competition—not that you'd know it by his growing stash of heavy metal.

When a score of 15.433 was posted, the crowd booed and one of the Japanese coaches immediately approached the judges to file an inquiry. Sure enough, the judges had evaluated one of his skills incorrectly, lowering his start value. They soon posted a revised score of 15.633, which put him in front of Zou Kai of China, the Beijing Olympics and 2009 world champion on floor.
Diego Hypolito of Brazil and Alexander Shatilov of Israel tied for the bronze.

Maroney does one of the hardest vaults in the world—a roundoff onto the takeoff board, back handspring onto the vault and then 2.5 twists before landing—yet manages to make it look effortless. She gets tremendous height, and her legs were ruler-straight as she twisted. She took a small step to steady herself on her landing, then threw her hands into the air with a big smile.

Her second vault didn't have the same difficulty but it was done just as well, and it was easily enough to give her the gold. She finished with 15.3 points, more than a half-point in front of Oksana Chusovitina of Germany. Thi Ha Thanh Phan of Vietnam won the bronze.