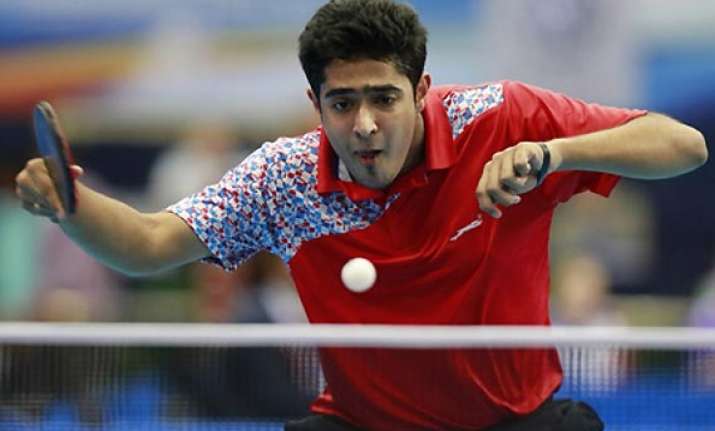 Mumbai: Indian paddler Sagarika Mukherjee finished runner-up in the Junior Girls singles at the $8,000 India Junior and Cadet Open at the NSCI Stadium here on Sunday.
China's Yanmei Yang beat the Indian 4-3 (11-6, 11-2, 11-4, 14-16, 9-11, 5-11, 12-10) in a thriller in the final. Yang received the winner's purse of $1,000 while Sagarika earned $500 for her effort.
In Junior Boys, India's Sudhanshu Grover defeated compatriot Abhishek Yadav 4-1 (11-2, 16-14, 12-10, 4-11, 11-7) to take home $1,000. While Grover upped his game, southpaw Yadav was not in his elements which reflected in his game. Attacking from both flanks, Grover kept Yadav engaged with short rallies and whenever opportunities presented, he went for the kill.
Nobody gave a semblance of chance to Sagarika after she was down and out, trailing 0-3 and 2-4 in the fourth game. But she not only surprised the crowd but even the Chinese, who was forced on the back foot. Even the variations she employed in her serves failed as Sagarika won the extended game 16-14.
Sagarika's ploy of block and attack method worked as the Chinese made far too many mistakes. Sagarika took the next two games and was in her groove going 7-4 up in the decider only to allow her rival to come back. Another extended game this time saw the Chinese making amends to win the crown.
Sreeja Akula saved four championship points to level the score and even went 7-4 up in the decider of the Cadet Girls final. However, once Sagarika levelled the score at 7-all, the cool headed West Bengal girl finished off in style to win the title 3-2.
In the Cadet Boys final, Birdie Boro steam rolled Arjun Ghosh in straight sets. Ghosh, though put up some late resistance in an extended third game, it was too late too little for him. Boro, playing an attacking close-to-the-table game won several winners.
Final results:
Junior boys singles: Sudhanshu Grover bt Abhishek Yadav 4-1 (11-2, 16-14, 12-10, 4-11, 11-7)
Junior boys doubles: Sameera Kumar/Rohit Rajasekhar bt Sudhanshu Grovere/Abhishek Yadav 3-0 (15-13, 11-6, 11-7).
Junior girls singles: Yanmei Yang bt Sagarika Mukherjee 4-3 (11-6, 11-2, 11-4, 14-16, 9-11, 5-11, 12-10)
Junior girls doubles: Ayhika Mukherjee/Suthirtha Mukherjee bt Manika Batra/Reeth Tennison 3-1 (11-5, 10-12, 12-10, 11-3).
Cadet boys singles: Birdie Boro bt Arjun Ghosh 3-0 (11-8, 11-6, 16-14)
Cadet boys doubles: Arjun Ghosh/Ayush Tayal bt Birdie Boro/Anirban Ghosh 3-2 (11-8, 4-11, 11-9, 8-11, 11-9).
Cadet girls singles: Sagarika Mukherjee bt Sreeja Akula 3-2 (13-11, 11-13, 11-8, 17-19, 11-9)
Cadet girls doubles: Sreeja Akula/C.R. Harshavardhini bt Shruti Amrute/Naina 3-0 (12-10, 11-8, 11-4).