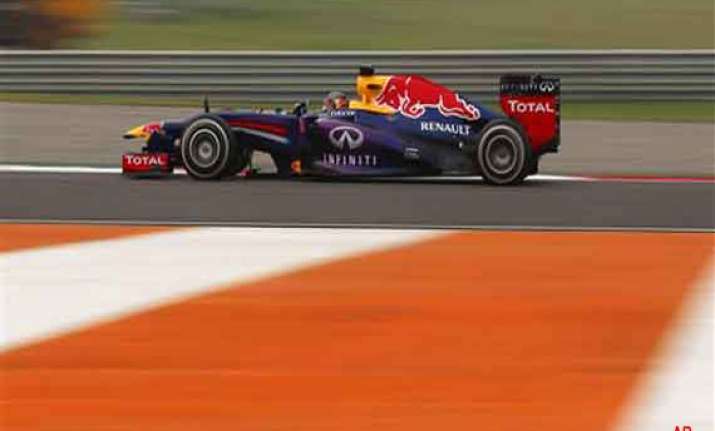 Greater Noida, India: With Red Bull nearly ready to pop the champagne in celebration of a fourth straight title for Sebastian Vettel at the Indian Grand Prix, the team may be wise to chill an extra bottle.
Red Bull leads the constructors' standings by 158 points with four races left and can also claim a fourth straight double Sunday if Ferrari fails to outscore the leaders by at least 19 points.
But given Red Bull's supremacy this season, much attention has now turned to the fierce tussle for second place between Ferrari, Mercedes and Lotus, who are separated by only 33 points.
Red Bull team principal Christian Horner, while excited by the prospect of a fourth straight double, was quick to play down the chance of it happening this weekend.
"I think that should we achieve a quadruple double championship it would be an amazing feat for every single member of the team," Horner said.
"But those thoughts aren't really in our mind at the moment, our focus is very much on this event. The championship table obviously looks very healthy, but it's never done until it's mathematically impossible for somebody else to win."
Ferrari is in second place at the moment and is more focused on defending its spot than fighting for first.
"The fight is very strong. We know that around us there are teams that are very competitive and we cannot be complacent," Ferrari team principal Stefano Domenicali said. "We are second, but if you want to keep that position we need to perform well with both drivers, and with the team of course."
Domenicali said the increasing competitiveness of Mercedes and Lotus ensured a struggle for every point.
"It will be for us a very intense end of the season because we know everyone wants to reach (second place) and we are the same," he said. "It will not be easy because in the last couple of grand prix we saw that Mercedes and Lotus have increased their performance, but we'll fight up to the end that's for sure."
Lotus team principal Eric Boullier said his team has a simple strategy for the rest of the year.
"The target is to obviously chase a podium finish for both cars in every race," Boullier said. "This is a chance to be in second place or on the podium of the constructors' championship."
Mercedes team principal Ross Brawn said the competition for second place boiled down to "who races most effectively."
"We've not raced very well the last few races—I don't think we've scored the points we could have done or should have done—and now up to us to make sure we race well in the last four races," Brawn said.
"If we had something to make the car go faster we'd fit it, but we don't and I don't think the others do, too. So I think between the three teams it's a question now of who races well, the team, the strategy and the drivers, and that will determine who finishes second in the championship."