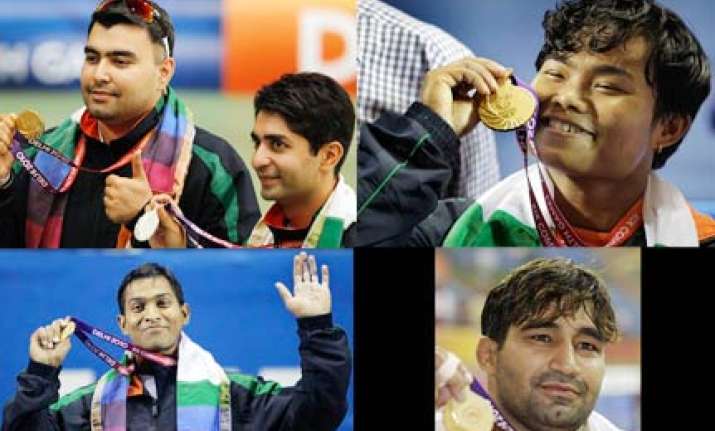 New Delhi, Oct 6: Putting up an inspired display, India's athletes gave a big impetus to the country's ambitious target of finishing second in the Commonwealth Games by hauling up 13 medals, including six gold, on a productive third day today.
India continued to rule the roost at the Dr Karni Singh shooting range by grabbing six medals, including three gold, while more success came from the weightlifing arena and wrestling mat, ensuring that the hosts retained the second position behind Australia.
Weightlifters Renu Bala Chanu (women's 58kg) and K Ravi Kumar (69kg), who also set a new Games record, along with 55kg Greco-Roman grappler Rajender Kumar, provided the last three gold to make it the most fruitful day for the country.
In the morning, the shooters held sway by adding three silver medals as well to the country's kitty while rifle marksman Gagan Narang and pistol experts Anisa Sayyed and Omkar Singh accounted for the yellow metal.
The four silver medals won by India came through the efforts of Olympic shooting champion Abhinav Bindra, shooter Sornabat Rahi, trap shooters Ronjan Sondhi and Asher Noria and grappler Manoj Kumar.
There were three bronze medals, won by wrestlers Dharmendra Dalal and Sunil Kumar and para swimmer Prasanta Karmakar, that rounded off India's impressive medal heist.
The total three-day medal tally by India read 11-8-5 which placed them at the second spot below Australia (18-14-9).
England were third with 6-11-8 but would fancy their chances of increasing the figure with the athletics competition getting under way.
The day began with world champion Narang's glorious run, at the expense of Beijing Olympic champion and teammate Bindra, in the men's 10m individual air rifle event, with a Games record to go with it.
Hyderabadi sharp-shooter Narang set the tone by firing a perfect 600 to equal his own world record on his way to upsetting Bindra, for his  second gold medal of these Games.
He had teamed up with the Chandigarh-based Bindra to clinch the 10m air rifle pairs gold - the first for the country in the Games - yesterday.
In women's 400m race, both Manjeet Kaur and Mandeep Kaur qualified for the semifinals with the former winning the heat in 52.75secs while the latter finished third in another heat with an effort of 52.48secs.
Amantle Montsho of Botswana led the timing list today wuth an effort of 51.56secs ahead of Amertil Christine of Bahamas who clocked 52.08secs.
In men's shot put also, both the Indians Om Prakash and Shaurabh Vij qualified for the finals despite below par performances.
Om Prakash finished fifth with a throw of 18.48m, much below his season's best effort of 19.99m.
Vij, who made it to the Indian squad after his provisional suspension after testing positive for banned stimulant methylhexaneamine was lifetd by NADA just before the Games, was seventh with 17.16m.
Woman hammer thrower Manju Bala could not qualify for the final as she finished 15th among 17 competitors with a throw of 54.84m.
In men's 5000m final, Indians Sunil Kumar and Sandip Kumar finished 14th and 16th among 22 runners with timings of 14:18.99 and 14:22.59.
Ugandan Moses Kipsiro stunned Kenyan Eliud Kipchoge, the season's leading athlete and Beijing Olympics silver medallist, with an effort of 13:31.25, one of the slowest timings in the 5000m final in these Games.
Kipchoge, whose season's best was 12:51.21, clocked a disappointing 13:31.32. Another Kenyan, Mark Kiptoo, finished third with 13:32.58 below his season's brst of 12:53.46, the third best time this year.
India's M Manjualam and Deepa Malik finished sixth and seventh in the shot put women's para sport event which was won by Louise Ellery of Australia with an effort of 6.17. PTI