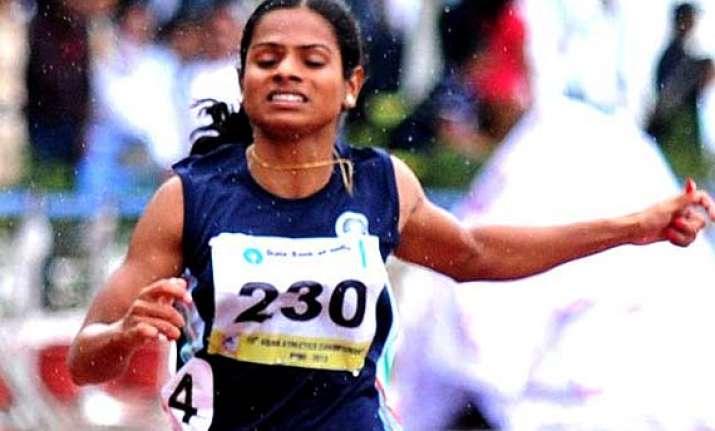 New Delhi: The government today assured all possible help to sprinter Dutee Chand to participate in future sports events after the athlete from Odisha was last week excluded from the Indian team for the Commonwealth Games on the ground of high androgen level.
"This is a very sensitive question. I assure the august House that our government will extend all possible help to this player to participate in future events," Union Sports Minister Sarbnanda Sonowal told Lok Sabha.     
He was responding after senior BJD MP Bhartruhari Mahtab raised the issue during zero hour. Drawing the government's attention to Chand's dilemma,
Mehtab said due to a "sex test" conducted on her ahead of Commonwealth Games,  "promising career" of the ace athlete had come to a "grinding halt".     
He asked the government to seek a reply from both the Sports Authority of India and Athletic Federation of India as to why only she was put to test. He also appealed to the government to take steps so that Dutee could overcome the androgen level and resume her career.     
"What is the definition of the female athlete? Why sex test is done on female only? This is discrimination," Mahtab said holding Sports Authority of India and Athletic Federation of India responsible for her plight.     
Referring to the laurels brought to the country by the athlete in 100 meter and 200 meter events, the BJD leader said the gender test conducted just ahead of the Games was "illegal".     
He questioned the sports organisations' claim that Dutee is not fit under "female category" and said she should not be left in lurch.     
Dutee was born in a poor weaver family in 1996 and became a national champion in 2012 Under-18 category when she clocked 11.8 seconds in the 100 metres event.