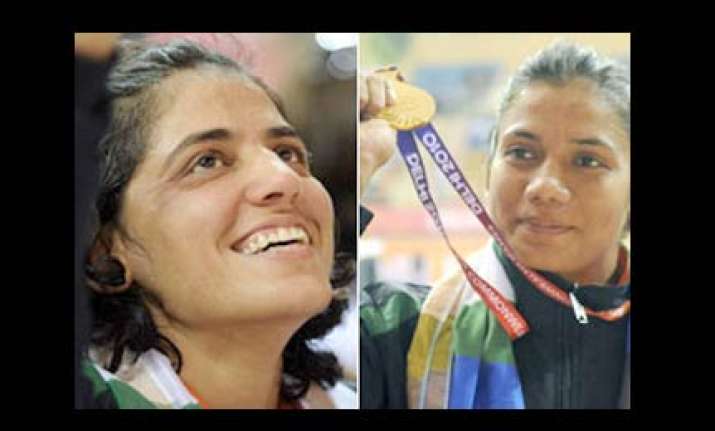 New Delhi, Oct 8: India' s top woman wrestler Alka Tomar and youngster Anita won gold medals in their respective 59 kg and 67 kg freestyle categories respectively to make it a memorable day for hosts at the Commonwealth Games here today.
With Geeta winning India s first gold in woman s wrestling yesterday, Alka and Anita made it a hat-trick of gold medals. While Alka outclassed Tonya Verbeek of Canada, Anita beat Megan Budyens of Canada winning the first two rounds on points. Anita won 4-0.
India got another medal courtesy Babita Kumari who lost her 51kg freestyle bout against Ifeoma Christi Nwoye of Nigeria by 4-6 margin. India thus finished with six medals, 3 gold, two silver and a bronze medal.
The star of the day undoubtedly was Alka, who pinned down her much fancied Canadian opponent Tonya in one minute and 49 seconds. Tonya, incidentally is a silver medalist at the Athens Olympics in 2004 and a bronze medal winner at the 2008 Games in Beijing.
"Definitely, it s the most memorable victory for me. From today, the Nav Ratri has started and the Almighty was with me. She is a seasoned fighter and I knew it wasn t going to be easy," said the Meerut girl, who has been the face of women s wrestling in India. She has been a bronze medalist at the World Championship, bronze medalist at the Doha Asian Games.
 Wrestling runs in her blood as her father, uncles and brothers are all wrestlers. She also feels that perception about wrestlers have changed since Sushil Kumar s bronze in the Beijing Olympics.
 "Sushil pehelwanji should get the credit for earning respect for the wrestlers. Lot of people are taking up the sport and the popularity will only increase in the coming years," Alka said.
 For Anita, the second girl from Bhiwani after Geeta to win gold, it was the strategy plotted by her coach.
"Having fought against her in the World Championship, my coach told me that my opponent usually retreats before attacking. I was told that moment she takes a few steps back, I should attack. It paid off," said Anita, who works as a constable with Haryana police.
It was a painful sight to watch a teary eyed Babita at the podium after she lost her bout pretty badly. PTI