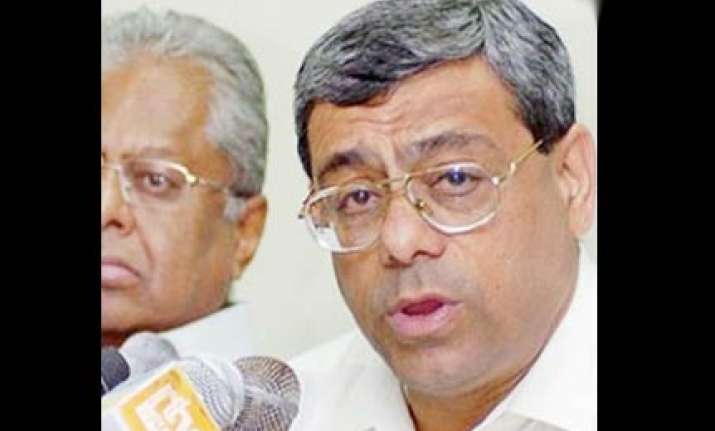 The spate of corruption allegations in the Commonwealth Games on Thursday  claimed its first victim with OC treasurer Anil Khanna resigning on moral grounds after it came to light that his son's firm had secured contract for laying tennis surfaces.
Khanna said he was in no way involved in the contract nor was he the treasurer when the deal was finalised but had taken the step to quit to clear himself from any possible corruption taint.
"I don't want to be seen as somebody associated with corruption or financial malpractices. I joined the OC in January 2010 after Mr Mattoo resigned and by that time the contract was done. So I don't have a conflict of interest in the deal as it was over by December 2009," he told a press conference.
Khanna's dramatic resignation came hours before the OC's emergency Executive Board meeting and was widely interpreted as a move to put pressure on chairman Suresh Kalmadi to also step down from his post in the wake of corruption scandals.
He was among those who had pressed for the board meeting along with vice-chairman Randhir Singh and senior IOA vice-president V K Malhotra.
Defending himself, Khanna said his son's company, Rebound Ace India, has nothing to do with Rebound Ace Australia which got the contract to lay 14 synthetic surfaces at the R K Khanna Stadium, the venue for the tennis event.
"Rebound Ace India is an absolutely separate company. It is just a distributor of Reliance Ace Australia. It is not a subsidiary nor Reliance Ace Australia has stake in it. My son's company did not get any paisa. So where is the impropriety?" he asked. Khanna, also All India Tennis Association Secretary, said he was mulling to "disassociate from the OC" after the corruption allegations surfaced.
"My family was not happy when I joined the OC and I had been thinking of disassociating from the OC after the (corruption) allegations have come out,"  he said.
"I have nothing to hide. My conscience is clear. I don't want to be seen as somebody associated with corruption or financial malpractices. It is not about treadmill which was purchased at Rs 5 or 9 lakh. We are saving Rs 40-50 lakh by laying the surfaces with a low budget," he added, apparently taking potshots at those clinging to their posts after the series of corruption allegations.
Asked whether the OC could reject his resignation, Khanna said, "I have written to the OC that a new treasurer be appointed. It (the resignation) will have to be accepted."
Explaining how the deal went through, Khanna said, "The International Tennis Federation recommended the company to OC after which the DDA and government floated the tenders. So AITA or myself has nothing to do with it."
"The deal in fact saved Rs 50 lakh to the government as its bid was lower to that of a company of Mahesh Bhupathi and Gaurav Natekar. But I have nothing to do in it," he added. Khanna said he, as treasurer of the CWG OC, was just an adviser and has no power to spend money.
"Under the Constitution of the CWG OC, I don't have power to spend a single rupee. That is done by the executive board. I have no financial powers," he said.
Asked about media reports that top Indian players, including Leander Paes and Mahesh Bhupathi, have expressed unhappiness over the surface laid by Rebound Ace Australia as it was more prone to injury, Khanna said major competitions like Asian Games and Youth Olympics used it.
"Every player can have an opinion but it was recommended by ITF. Paes and Bhupathi won the gold in Doha Asiad playing on this surface. Sania Mirza won a medal on that. Moreover, International Olympic Committee had recommended this surface for the Youth Olympics (August 14-26) in Singapore," he said.
He said the Australian Open authorities had not used this type of surface as their top player Lleyton Hewitt wanted a court suited to him.
"In 2008 Australian Open authorities changed the surface because Hewitt wanted a surface suited to him. It is natural that they would do it in consideration of their player," he said. PTI