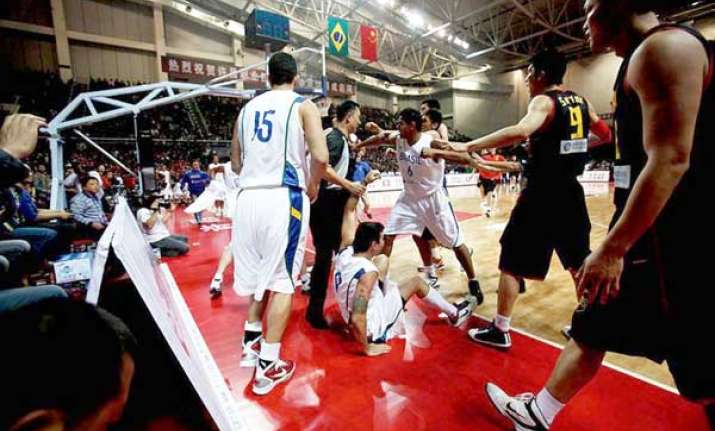 BEIJING: Players of the Chinese and Brazilian national basketball teams were involved in a massive brawl during their third international friendly game in Xuchang, Henan Province on Tuesday, forcing the match to be abandoned as early as the first quarter.
The referee failed to handle the situation in a game that featured excessive physical contact right from the start.
The Chinese Basketball Association apologised on Thursday after the massive brawl which forced play to be abandoned in the exhibition game against Brazil. 
China's players had been angered by a foul call which their coach Bob Donewald, a former NBA assistant with the New Orleans Hornets and Cleveland Cavaliers, loudly protested about to the referee.
Play got increasingly rough until breaking out into open exchanges of kicks and punches as players from both benches charged onto the court.
China's Zhang Qingpeng, who scored 24 points in their previous game, hit the ground head first after a strong challenge, and was stretchered off and taken to the hospital.
Chinese coach Bob Donewald received his second technical foul, with one minute to go in the first quarter, for complaining about a refereeing decision and the tense situation escalated.
Players from both teams, including bench players, were then seen punching and kicking each other after the game resumed, and when the visitors elected to walk off the court, the game was abandoned.
"We really didn't want to pick a fight but we had to protect ourselves," Donewald was quoted as saying on sina.com.
"One of our players was sent to the hospital with concussion... Their (Brazil) behavior is unprofessional, this is not a national side, only a club team," Donewald said.FIBA could impose penalties on involved players from both teams.
Watch Videos:
One,  Two