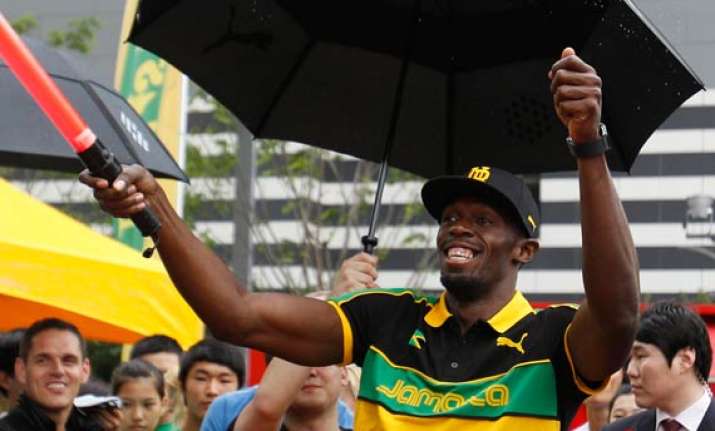 Daegu (South Korea), August 24:   Usain Bolt will be going for a triple of golden triples when he settles into the starting blocks Saturday on the opening day of the athletics world championships.

Another sprint sweep of the 100 and 200 meters and the 4x100 relay will further cement his status as a sporting legend at only 25 - even if any superlative feat in Daegu will only be seen as a warm-up for next year's London Olympics.

After three world records at the 2008 Beijing Games and two at the 2009 worlds in Berlin - the relay team merely ran the second fastest time in history - don't count on Bolt to break more marks in South Korea. Since a back injury last year, he is still looking for his sharpest form.

But more gold is all what counts now.

"World records can be broken but medals are forever," Bolt said.

His toughest challenge this year is not expected from U.S. sprinters after Tyson Gay injured himself, but from Jamaican teammate Asafa Powell, who has the top 100 time of the year at 9.78 seconds. But in their only confrontation this year in, Bolt edged him in Rome.

"He has been running fast for many years and deserves a lot of respect," Bolt said of his relay teammate.

Where victory lies at the finish line for Bolt, it comes much earlier for Oscar Pistorius.

The double-amputee sprinter from South Africa, who runs on carbon-fiber blades that replace his lower legs, will first race in the 400 heats on Sunday.

Even if Pistorius fails to make it to the final - he is only the 18th best performer of the season - the sight of him competing against the best should send a message of hope to all disabled athletes around the world and provide a feel-good story for everyone else.

Another South African that will catch some attention is Caster Semenya. As an 18-year-old in Berlin she won the 800 before she was sidelined for 11 months in a gender-test controversy. Now she is back, although not at her best.

Bolt won't be the only one chasing triple gold in Daegu. Allyson Felix will be seeking a fourth-straight 200 title, but she also wants to beat defending champion Sanya Richards-Ross for her first 400 win, too.

Another 4x400 relay gold would make it a perfect three-for-three championships for the American runner.

If four straight is impressive, Kenenisa Bekele is trying to do one better when he lines up in the 10,000 on Sunday. The Ethiopian has not run a competitive 10,000 in two seasons but such is his standing that no one wants to count him out.

A fifth title would also break the tie with Haille Gebrselassie as Bekele is seeking to take over as the greatest long-distance runner in history.

Five in a row would still not be a world championship record, however. Sergei Bubka won six pole vault titles in a row.

Yelena Isinbayeva was long seen as a female version of Bubka in the making - until she no-heighted in Berlin two years ago to lose her stranglehold on the discipline. That was supposed to be a momentary blip, but it turned into a two-year hiatus of titles and a season-long timeout to reassess her career.

Now, the multiple Olympic champion and world-record holder is back and wants to re-impose her domination.

Russia could certainly use her boost since it finished only fourth in the medal standings last time behind the United States, Jamaica and Kenya.

Jamaica was neck-and-neck in the gold medal race until the last day in Berlin. Then the United States made another big move to end with 10 golds and 22 overall, with Jamaica second with seven golds and 13 overall.

The same theme should long run over the next two weeks if the Jamaican sprint domination over the Americans continues.

Jamaica's men look even stronger than two years ago. And with U.S. star Tyson Gay out injured, and Michael Rodgers provisionally suspended after testing positive for a banned stimulant, Jamaica looks poised to extend their reign.

The Americans might well have to rely on the women's sprinters instead. Carmelita Jeter has been the dominant sprinter for the past two seasons, and has edged Jamaican rival Veronica Campbell-Brown for the top time in the 100 this year.

Americans also hold the top three times in the 200.

But in one event, picking a winner is unpredictable. David Oliver has the top time in the 110 hurdles this year, but a resurgent former Olympic and world champion Liu Xiang is a close second and reigning Olympic champion Dayron Robles is third.

In an extremely technical discipline, one tiny error could make all the difference.