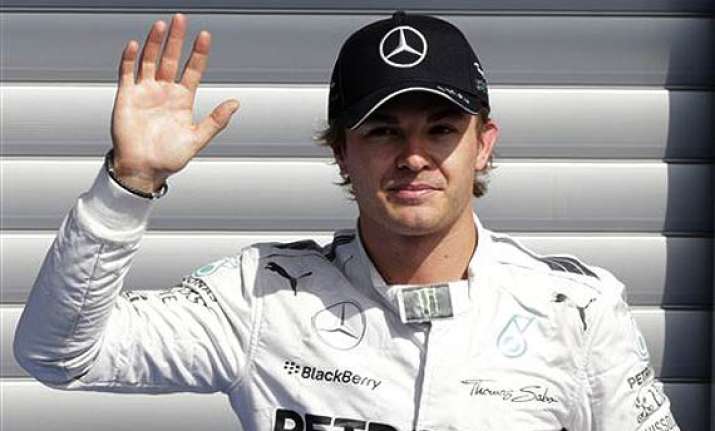 SPA, Belgium :  Nico Rosberg will start the Belgian Grand Prix from pole position after holding off a strong challenge from his Mercedes rival Lewis Hamilton in qualifying on Saturday.
Hamilton was ahead of Rosberg on the first two time splits of his final lap but then drifted back, allowing Rosberg to clinch a fourth straight pole and sixth in the past seven races. The German driver leads Hamilton by 11 points in the overall standings.   
Rosberg clocked 2 minutes, 5.591 seconds in difficult conditions, with the Spa track drenched following a heavy downpour shortly before qualifying started."It was just Lewis I had to focus on," Rosberg said after his 11th career pole. "It makes it easier when there's not a whole bunch, only one guy."   
Hamilton finished in 2:05.819 and Sebastian Vettel got a much-needed boost with the third quickest time -- although the fact that he was 2 seconds behind the Mercedes pair offers the Red Bull driver little hope of securing a first win this season.   
"It helped us that it was wet. The gap was a lot bigger and our car was really dominant," Rosberg said. "It was amazing to see that, how quick our car is." Two-time F1 champion Fernando Alonso was fourth in his Ferrari ahead of Daniel Ricciardo, the only non-Mercedes driver to win a race so far this season. Hamilton has won five, Rosberg four and Ricciardo has clinched two in an impressive first season with Red Bull.   
Hamilton had not qualified on the front row since the Canadian GP in June. "We have a great car here and we're leading the way here. So cool to see that," Hamilton said. "We definitely have good chances for tomorrow."   
However, the 2008 champion was again plagued by technical problems -- just like in the previous four races, where he started from 22nd, 20th, sixth and ninth on the grid and still got on the podium every time.   
"I was nervous going into qualifying, not knowing if the car was going to get through it," the British driver said. This time, he had a brake problem.   
"You need to have confidence on the brakes. There were times in Q3 when I was just going straight on because the left brake wasn't really working. When it glazes it's hard to recover, especially in the rain," he said. "But in the evening they're able to scrub it and get rid of the glazing. In the dry tomorrow it shouldn't be a problem."   
Vettel, the four-time defending champion, did not take part in Friday's second practice run because of a power unit failure. The German driver's victory at Spa last year was the first of nine successive wins. The way things are going this season -- he is languishing in sixth place overall -- just a podium finish would be a success.   
"We know we're down in power. Mercedes have a strong car and they have a lot of downforce. We are similar in the corners but quite a long way off in the straights," Vettel said. "Hopefully tomorrow will be closer in terms of race pace."   
Vettel has won 39 GPs -- including a record-equaling 13 last season -- and clinched 45 poles. But he has only two podium spots this term: third in Canada and Malaysia. "I'm trying very hard. It's not like I'm consciously deciding not to be on pole," he said. "We've been on the other side for quite a while but that's the name of the game. The season was not what I was hoping for but there are still several races to come."   
In Q1, Mexican driver Esteban Gutierrez had to retire due to a technical problem and Venezuelan Pastor Maldonado failed to make Q2 after spinning his Lotus. His teammate, Romain Grosjean, failed to make Q3. The Frenchman starts the race from 15th as his difficult season continues. In the final practice earlier, Valtteri Bottas of Finland was fastest in his Williams ahead of Ricciardo and Rosberg.