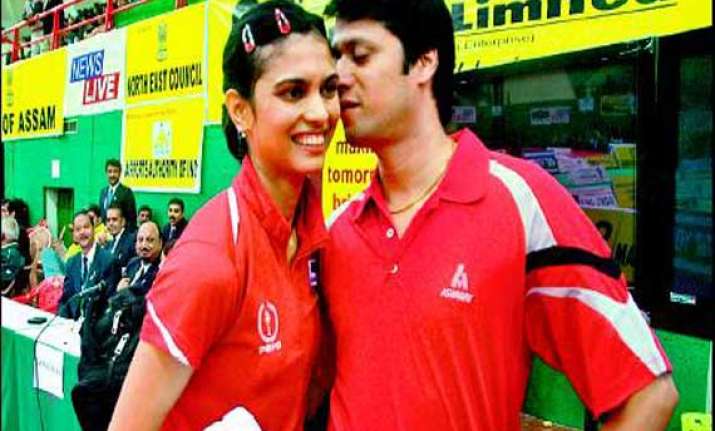 New Delhi: At an age when badminton players usually hang up their raquets, former national champion Trupti Murgunde has decided to prolong her career by forging an on-court partnership with husband Abhijeet Naimpally.
Essentially singles players, Abhijeet, 39, and Trupti, 31, are venturing into doubles play. The two paired up for the first time to play in mixed doubles at the Bahrain International Series in October.
The couple, married for eight years after three years of courtship, feel they did reasonably well to make to the quarter-finals in the Bahrain International Challenge in November and the semi-finals of the Bangladesh Open in December after playing together for barely a month.
"We have been playing well together. We started playing mixed doubles at Bahrain in October and since then we have entered five international tournaments and we have gelled well," Trupti, who won the women's singles national title in 2009, told IANS.
But is Abhijeet, at his age, physically fit to play at the international level?
"Both of us felt we were playing well and were good enough to play international tournaments. As long as we are competing well at this level and beating good players, we will continue," Abhijeet, who works in Canara Bank, told IANS.
Trupti, an Indian Oil Corporation (IOC) employee, endorsed her husband's view, adding that their partnership, importantly, allows them to spend more time together.
"This just proves that age is no bar for playing and this also gives us more time to spend together. Otherwise, we are playing in different tournaments and seldom we get to play in the same tournament," explained the former World No.49.
The couple also explained that if they had not been playing together, they might not have played mixed doubles.
The duo was seeded second and reached the quarter-finals last week at the Uganda International where Trupti won the singles title Sunday.