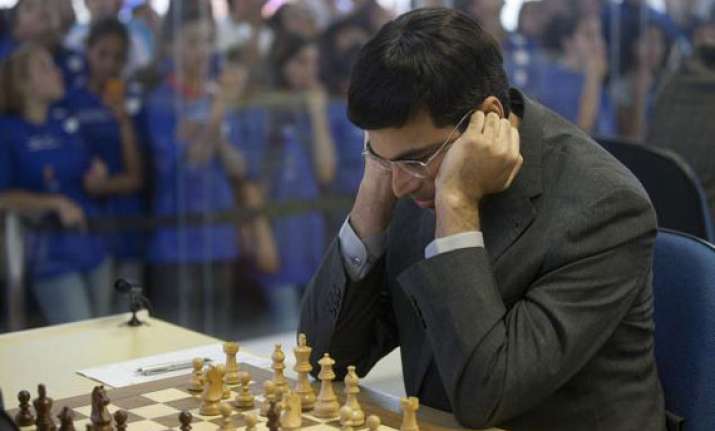 Baden-Baden (Germany), Feb 14: World champion Viswanathan Anand played out a draw with English Grandmaster Michael Adams to be joint second after the sixth round of Grenke Chess Classic now underway.
With his fifth draw out of six games, Anand took his tally to 3.5 points out of a possible six and was joined by German Grandmaster Arkadij Naiditsch in the second spot after the latter came up with a sterling effort to beat compatriot Daniel Fridman.
The other game of category-19 tournament between Fabiano Caruana of Italy and Georg Meier of Germany ended in a draw leaving the former still in front with just four rounds to come.
Caruana on four points enjoys a slender half point lead over Naiditsch and Anand while Fridman and Adams share the fourth spot on 2.5 points apiece. Not far behind is Meier, who has two points.
Anand played his third white in the tournament but could not make much impression on Adams who felt the heat but was never in any serious problems.
For the records, it was a closed Ruy Lopez in which Adams was saddled with a passive knight on the queen side. However it was not much as Anand himself noted in the post game chat, "black can live with this weakness until the queenside opens up," he said.
According to the world champion, his 22nd move was not the best when he developed his queen.
"Usually when you make sophisticated moves like this it usually means that you have lost track somewhere", Anand said.
As it happened in the game, Adams equalised without much ado thereafter and subsequent exchanges led to a rook and pawns endgame with no chances for either side. The draw was agreed to on move 41.
Naiditsch played a stunning game to beat Fridman. The German has been involved in as many as five decisive games out of a total six in the tournament and he continued with his do-or-die approach even as black against Fridman.
The King's Indian defence met with the Classical set up and Naiditsch threw the position open with a fantastic knight sacrifice in the middle game.
The move left everyone present shocked as black slowly developed an attack against a weak white king. According to the machines, the position was defendable but it was out of the wits of a human mind to sustain such pressure. This was certainly the game of the tournament thus far.
Luck continued to be on the side of Caruana as he survived another mishap. Meier had a winning position on board and was just one correct move away to score his first victory but the German erred decisively to reach a drawn queen and pawns endgame.
Results round 6: V Anand (Ind, 3.5) drew with Michael Adams (Eng, 2.5); Georg Meier (Ger, 2) drew with Fabiano Caruana (Ita, 4); Daniel Fridman (Ger, 2.5) lost to Arkadij Naiditsch (Ger, 3.5).
The moves:
V Anand — M Adams
1.    e4 e5 2. Nf3 Nc6 3. Bb5 a6 4. Ba4 Nf6 5. O—O Be7 6. d3 b5 7. Bb3 d6 8. a3 O—O 9. Nc3 Na5 10. Ba2 c5 11. Nd5 Nxd5 12.Bxd5 Bb7 13. b4 Bxd5 14. exd5 Nb7 15. c3 Qc7 16. Re1 f5 17.Bg5 Rae8 18. a4 cxb4 19. cxb4 Bxg5 20. Nxg5 Nd8 21. axb5 axb5 22. Qd2 h6 23. Nf3 Qf7 24. Qa2 Qf6 25. Nd2 Nf7 26. Qa6 e4 27.dxe4 fxe4 28. Qxb5 e3 29. fxe3 Rxe3 30. Qb6 Rxe1+ 31. Rxe1 Qc3 32. Qe3 Qxb4 33. Nf3 Qc5 34. Qxc5 dxc5 35. Re7 Rd8 36. Ne5 Nxe5 37. Rxe5 Kf7 38. d6 c4 39. Re7+ 39. Rc5 Kf6 40. Rc7 Rxd6 41. Rxc4 game drawn.