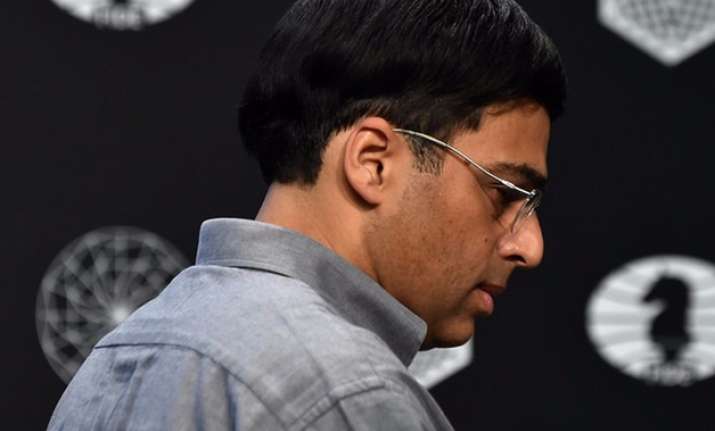 Moscow: Five-time world champion Viswanathan Anand played out a thrilling draw with Anish Giri of Holland and inched himself up to seven points after his 13th and penultimate round game in the Candidates Chess tournament now underway here.
The draw might just be the end of Anand's aspirations for the next World Championships as the Indian may not have theoretical chances of winning the Candidates that would have ensured another world title clash with Magnus Carlsen of Norway.
While the important games of the penultimate round were still in progress, Fabiano Caruana of Italy made a strong case for himself as he stood a pawn plus in the endgame against Russian Peter Svidler.
The other main contender, Sergey Karjakin of Russia was down a piece and fighting for survival against Levon Aronian of Armenia.
In the other game of the day, Hikaru Nakamura accounted for Veselin Topalov of Bulgaria to bounce back to a fifty per cent score.
With just one round remaining, Anand will take on Svidler and the permutation and combinations will give the Indian chances only if both Karjakin and Caruana lose this round. If they both draw, the showdown between them in the final round will decide the winner.
Anand yet again played an uncompromising game in the Italian opening against Giri and the Dutch Grandmaster took his chances with a piece sacrifice in the middle game.
Both players ran short of time and in the end Anand's two minor pieces were able to handle black's army. The game was drawn in 52 moves.
Results Round 13: V Anand (Ind, 7) drew with Anish Giri (Ned, 13); Veselin Topalov (Bul, 4) lost to Hikaru Nakamura (Usa, 6.5); Levon Aronian (Arm, 6) playing Sergey Karjakin (Rus, 7); Fabiano Caruana (Usa, 7) playing Peter Svidler (Rus, 6).