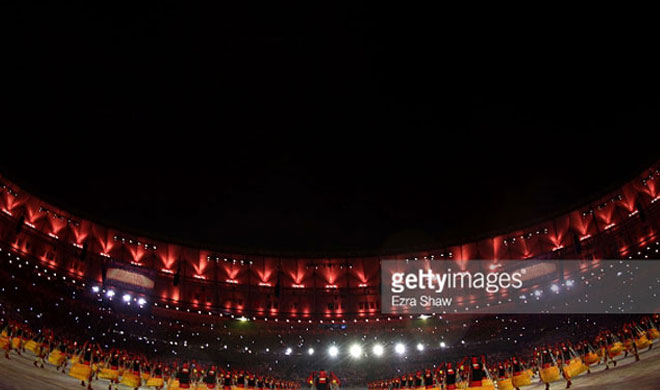 The Brazilian city bid an emotional farewell to the thousands of athletes of the world in a glittering closing ceremony to bring down curtains on the 31st Olympic Games here.
Rains failed to dampen the spirit of the athletes as they walked triumphantly behind their national flags in the resplendent atmoshphere.
India ended the Games at 67th position with one silver and a bronze. United States of America topped the medals tally with 121 medals (46 Gold, 37 Silver, 38 Bronze), followed by Great Britain (27 23 17) and China (26 18 26). Host country Brazil were at 13th position with 7 Gold, 6 Silver and 6 Bronze.
Among the highlights were Tokyo's impressive showcase and a vibrant carnival parade.
"These were a marvellous Olympics, in a marvellous city," said International Olympic Committee chief Thomas Bach.
"Over the last 16 days a united Brazil inspired the world, in difficult times for all of us, with its irresistible joy for life."
Amid heavy rains Sakshi  Malik, the first Indian woman wrestler to win an Olympic medal, stood tall waving the Indian tricolour. She led a contingent of 50 Indians, including the mens and womens hockey teams, the wrestlers and boxer duo of Shiva Thapa and Manoj Kumar at the closing ceremony. The honour of bearing the Indian flag came to Sakshi as silver medalist shuttler P V Sindhu had left yesterday.
The Olympic flag was officially handed over to Japan, and an official video of Tokyo's bid was shown as Japanese Prime Minister Shinzo Abe made an appearance.
Bach handed over the flag to female Governor of Tokyo Yuriko Koike. Japanese Prime Minister Shinzo Abe made a dramatic entry in a high-tech show, a trademark of the far eastern country, during a short but impressive performance titled See You in Tokyo.
International Olympic Committee President Thomas Bach declared the Games closed to mark the official end of the 16-day sporting spectacle competed among more than 11,000 athletes from 205 countries in 42
"I declare the Games of the 31st Olympiad closed. In accordance with tradition, I call upon the youth of the world to assemble in four years time in Tokyo, Japan to celebrate the Games of the 32nd Olympiad," Bach said to the huge applause of the packed gathering at the iconic Maracana Stadium on Sunday night.
The athletes braved harsh winter winds, accompanied by torrential showers, and enjoyed the festive atmosphere after intense competition in their respective events ended.
Torrential showers continued unabated but it did not matter to the athletes who sported translucent raincoats with several of them singing, dancing and taking selfies during the nearly three-hour-long closing ceremony. The athletes entered the pitch with Greece coming first according to tradition.