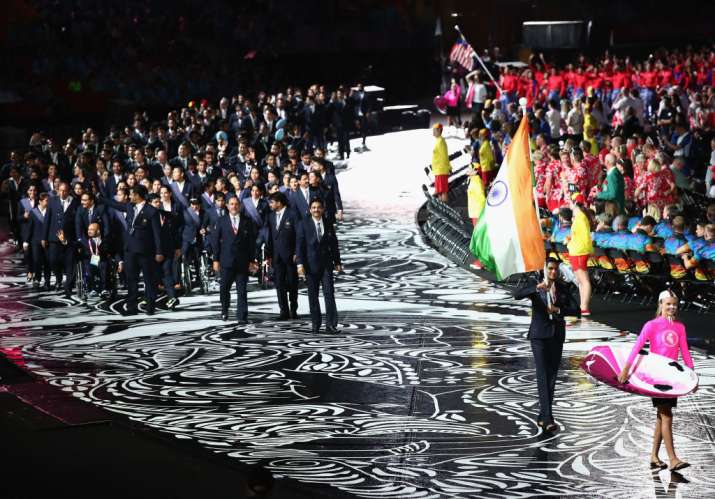 The 21st edition of the Commonwealth Games will commence in Gold Coast, Australia, with a glittering opening ceremony on Wednesday evening. The inaugural ceremony will be held at the Carrara Stadium. The biggest event in its history will run through 11 days.
More than 4,500 athletes from 71 nations and territories will be vying for 275 gold medals at the multi-sport event. The Indian contingent at the ceremony, which consists of over 200 athletes, will be led by flag-bearer P V Sindhu, the Rio Olympic silver medallist.
The squad also includes double Olympic medallist Sushil Kumar, and London Olympic bronze medallists Mary Kom, Saina Nehwal and Gagan Narang.
The first gold medal of the event will be contested in the women's triathlon on Thursday. Australia is hosting the Commonwealth Games for the fifth time.
LIVE UPDATES, COMMONWEALTH GAMES 2018 OPENING CEREMONY
On behalf of the Head of the Commonwealth, Her Majesty the Queen, HRH The Prince of Wales declares the XXI Commonwealth Games OPEN! #SHARETHEDREAM pic.twitter.com/SQispC8KZi

— Commonwealth Games Federation (@thecgf) April 4, 2018
# Britain's Prince Charles is speaking at the occasion. The Prince of Wales is representing Queen Elizabeth II at the Commonwealth Games
# An OATH is being taken at the stadium in a fight for Humanity, Equality and Destiny.
RECONCILIATION
Traditional Smoking Ceremony...Recognising and respecting indigenous people and rights across Australia and the Commpnwealth. This is how we are different. This is how the Commonwealth stands out. #MoreRelevantThanEverBefore @thecgf @australia @gc2018 #Australia pic.twitter.com/kcELvi9Uka

— Commonwealth Games Federation (@thecgf) April 4, 2018
# The ceremonial flag is being brought into the stadium and six athletes are carrying the flag of the Commonwealth Federation.
# And the parade of the nations has come to an end. The contestants are seen talking and mingling around. Stay tuned for more updates from Gold Coast.
I want to wish the Indian contingent a very good luck #cwg2018 bring it home guys🥇🥈🥉

— Gutta Jwala (@Guttajwala) April 4, 2018
# New Zealand enter the fray in a groovy mood.
# Nauru's flag-bearer is having a gala time.
# The host nation, Australia gets a huge round of an applause as they enter the arena.
# The athletes from the Caribbean march in the parade of nations.
# After the Indian contingent, it's the turn of the athletes from Pakistan.
# The Indian contingent, led by PV Sindhu, makes a grand entry. Popular Hollywood chartbuster 'Cheap Thrills' by Sia is playing in the background.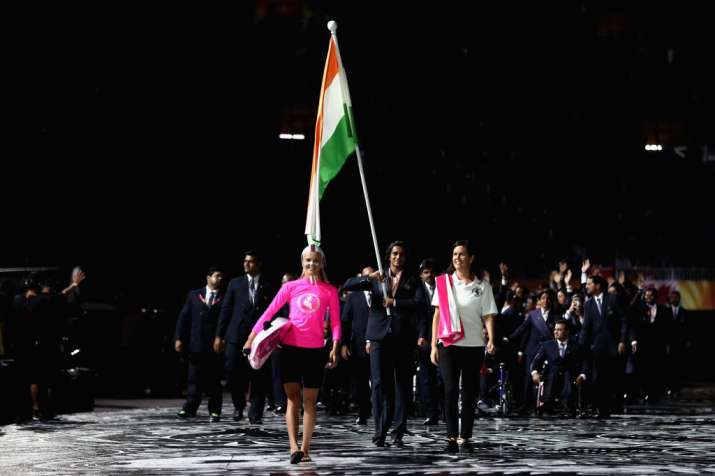 #PVSindhu leads #TeamIndia #CWG2018 pic.twitter.com/JZiETLEaOs

— Ishani (@IshaniDg) April 4, 2018
Our #Champion @Pvsindhu1 is #AllSet to lead #TeamIndia in the 'Parade of the Nations' at the grand #OpeningCeremony of the @GC2018 #CommonwealthGames

Voice your support and wish us luck in our biggest #GoldQuest at the #GC2018 in #GoldCoast ! pic.twitter.com/E7Q2h3qAS2

— Team India (@ioaindia) April 4, 2018
Its happening now!!!
A billion wishes and another billion hearts are all behind #TeamIndia as the #GC2018 opens for India's biggest #GoldQuest in the #GoldCoast2018 #CommonwealthGames!#AllTheBest @GC2018 @thecgf @Queensland 🎉 pic.twitter.com/if6ZsjseEX

— Team India (@ioaindia) April 4, 2018
The Prince of Wales and The Duchess of Cornwall today arrived in Brisbane for the start of a tour of Australia & to officially open the 2018 Commonwealth Games on behalf of Her Majesty The Queen@GC2018 #GC2018 - Follow @ClarenceHouse now for live coverage #RoyalVisitAustralia pic.twitter.com/FHFsTM4yxa

— The Royal Family (@RoyalFamily) April 4, 2018
Good luck to our Indian contingent at the Commonwealth Games .. bring it home guys 🇮🇳 @thecgf 🥇🥈🥉🤼‍♂️🤸🏽‍♀️🤾🏽‍♀️🏊🏼‍♀️🏋🏽‍♀️🏸🏑

— Sania Mirza (@MirzaSania) April 4, 2018
All the best to the athletes representing India at the Gold Coast 2018 Commonwealth Games! Our sportspersons have worked tremendously hard and the Games will be a wonderful opportunity to showcase their talent. Every Indian is cheering for our contingent. #GC2018 @GC2018

— Narendra Modi (@narendramodi) April 4, 2018
It's here! We're so excited to #SHARETHEDREAM with you all! 🎉🎉 pic.twitter.com/yT9tLWkiIJ

— Gold Coast 2018 (@GC2018) April 4, 2018