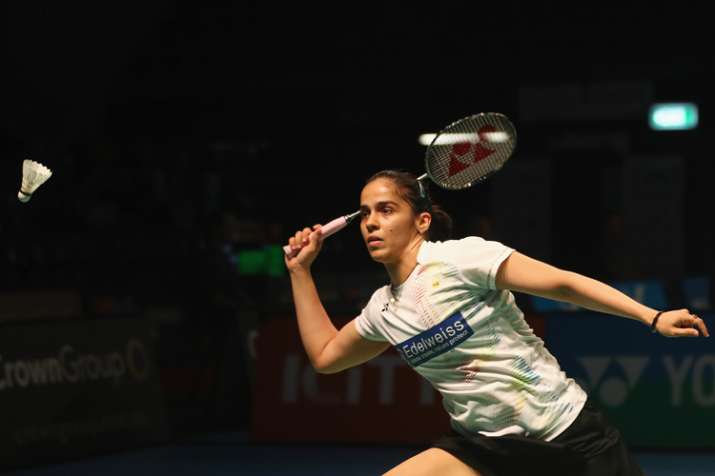 Indian shuttlers were off to a flying start in the mixed team championship as they blanked both Sri Lanka and Pakistan with identical 5-0 margin in lop-sided preliminary clashes on the opening day of the Commonwealth Games at Gold Coast on Thursday.
Spearheaded by Saina Nehwal and K Srikanth in singles, India expectedly dominated the tie as they dumped their Sri Lankan opponents 5-0. The only match where India were pushed to a degree was the mixed doubles.
India later trounced Pakistan by a similar margin but world no 2 Srikanth was made to work hard by a hitherto-unknown Murad Ali in men's singles.
Pranaav Chopra and Ruthvika Gadde earlier opened the proceedings against Sachin Dias and Thilini Pramodika and the Indian pair had to toil a little more than anticipated to prevail 21-15 19-21 22-20 in the mixed doubles match, which lasted nearly an hour.
However, Srikanth brought the momentum back by dispatching Niluka Karunaratane in straight games. The men's singles top seed won 21-16 21-10.
The men's doubles pair of Satwik Rankireddy and Chirag Shetty made a successful CWG debut, taking down Dinuka Karunaratna and Buwaneka Goonethillkea 21-17 21-14.
Next player in was Saina and she didn't give much time or effort in annihilating Madushika Beruelage 21-8 21-4 in a 22-minute appearance.
The star shuttler was caught in a controversy recently when she threatened to pull out of the Games if her father Harvir Singh wasn't accommodated at the CWG athletes village.
Singh was there in the stands to watch her today although he wasn't seated with the Indian team due to his status of being an extra official.
"It is nice to get used to the court conditions. The Commonwealth Games is very prestigious for all of the countries, and for India, we are trying our level best and I just want to be focused and concentrate on all of my matches," Saina said after her match.
"I expected that she would give me a tough fight. When you play someone who is lower-ranked, it is tough, because there is great expectation from you," she added.
Asked about India's prospects in the event, Saina said, "I hope that the whole team can play well. We are not thinking too much about the semis and finals." 
In the last match of the tie, Ashwini Ponnappa and N Sikki Reddy defeated Thilini Pramodika and Kavidi Siriannage 21-12 21-14.
Later in the day, Satwik combined with Sikki to start the proceedings against Pakistan and the duo dispatched Muhammad Irfan Saeed Bhatti and Palwasha Bashir 21-10 21-13 in the mixed doubles match to put India 1-0 ahead.
In the men's singles, world no 2 Srikanth was put to test by Murad Ali, who made the Indian work hard for each point. Eventually, Srikanth managed to get past his rival 21-16 22-20 in thrilling match, watched by a sizable diaspora who had turned out to support India.
London Olympic bronze medallist Saina then brushed aside Mahoor Shahzad 21-7 21-11 as India took an unassailable 3-0 lead in the five-match tie.
Pranaav Chopra and Chirag Shetty next combined to dispatch Muhammad Irfan Saeed Bhatti and Murad Ali 21-9 21-15 in the men's doubles contest.
Women's doubles pair of Ashwini Ponnappa and Ruthvika then put the final nail on the coffin with a 21-6 21-10 win against Mahoor and Palwasha as India completed the 5-0 drubbing.
On playing a neighbouring country, Sikki said: "There are no disputes between us. We know them well. It was a friendly match, not a tough match. We tried to make it fun for the crowd. We did not take it easy, because anything could happen. We wanted to win comfortably." 
Asked about their next opponent Scotland, Sikki said: "We know this is going to be a big game, better than this one. We've watched them play, so we know what we are up against.