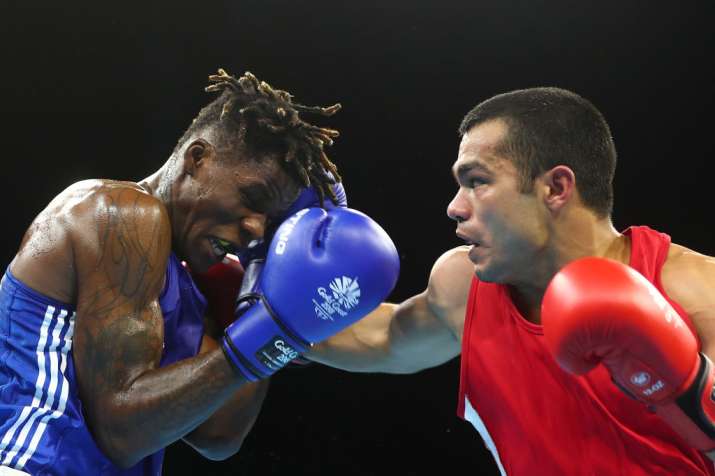 Boxer Vikas Krishan added another gold to India's swelling medal tally at the ongoing Commonwealth Games in Gold Coast on Saturday. The 26-year old Indian pugilist blanked Cameroon's Dieudonne Wilfried Seyi Ntsengue in the men's 75kg final to bag his first Commonwealth Games gold. Also, this was Vikas' first-ever gold medal in the middleweight category. 
Vikas won by a 5:0 unanimous verdict against Ntsengue in a close contest which saw both the boxers claiming to have won the bout before the referee's verdict. It was Vikas' first medal at the CWG.  Each of the five judges awarded 30-27, 29-28, 29-28, 30-27 and 29-28 points in favour of Vikas at the end of all three rounds.
While both Vikas and Ntsengue looked to be equally strong, especially when attacking, Vikas edged ahead in his smart way of defending as he showed his tactical know-how.
In the first round, Vikas was clearly boxing better, but Ntsengue came back strongly in the second round. Three of the judges awarded the Cameroonian an identical scoreline of 10-9. Ntsengue surprised Vikas by taking utterly attacking route after losing the waiting game from Vikas in the first round.
In the third round, however, Vikas tempted Ntsengue to go for the attack by maintaining a physical distance. When Ntsengue went near him to punch, Vikas' jabs landed accurately to give him a strong position.
Vikas got 10-9 scorelines from each of the five judges in the final round.
This was India's 25th Gold medal in the 2018 Commonwealth Games and a third gold in the boxing events.
(With IANS Inputs)