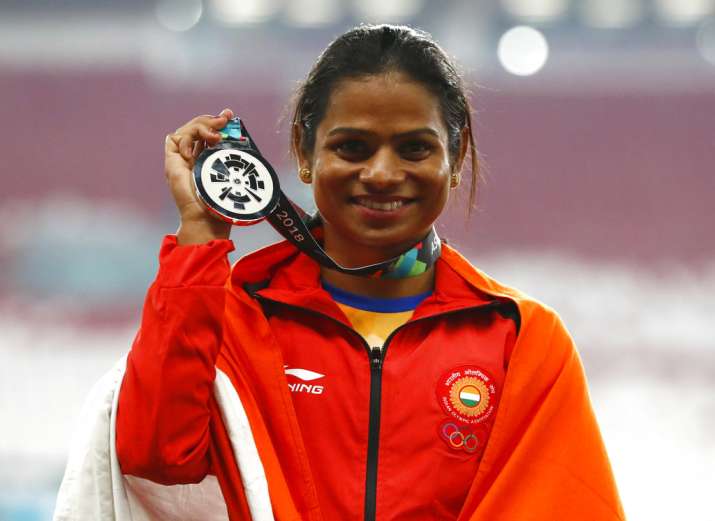 She won two silver medals in her maiden Asian Games, but star sprinter Dutee Chand cherishes her closely-fought 100m silver more than the 200m win.
The 22-year-old sprinter clinched a silver each in the women's 100m and 200m in the ongoing Jakarta games.
With the double, Dutee joined her illustrious compatriots such as PT Usha in the list of athletes, who have won more than one medal at the Asian Games.
"I had to work very hard for this result. It is huge that I won two medals. Personally, I like my 100m medal more. I focussed on that event more and I lost it by a very small margin," Dutee said at a felicitation ceremony arranged by Kalinga Institute of Industrial Technology.
Dutee had clocked a timing of 11.32 seconds in her 100m event. She was ousted by Odiong Edidiong of Bahrain won the gold in 11.30 seconds while Wei Yongli of China took the bronze in 11.33s.
Dutee was dropped from India's Commonwealth Games contingent in 2014 after being rendered ineligible to compete as a female athlete due to hyperandrogenism policy of the world athletics body (IAAF).
It was during this dark period in her life that India's chief badminton coach, Pullela Gopichand lent a helping hand.
"I stayed for four years at the Gopichand academy in Hyderabad. I fought my case from there went from playing nationals to internationals followed by Olympics, world championship and now I have won two medals at the Asian Games. It has been very lucky for me," Dutee said.
Asked about her future plans Dutee said her target is to make the finals of the 2020 Olympics in Tokyo.
"I lost the gold twice, that was God's will, I gave my best. There is nothing more one can do when the difference is so less. My aim now is the Olympics. I want to compete in the finals.
"I am delighted that the state government is supporting me so much. The are going to bear all my expenses till the Olympics," she added 
The Odisha government has announced a cash award of Rs 1.5 crore for the sprinter.