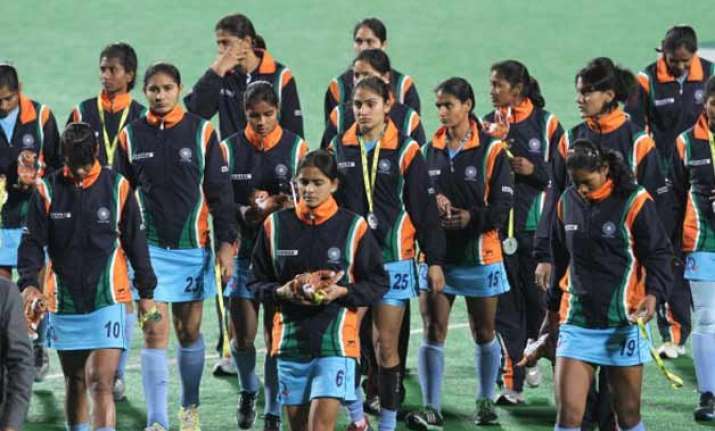 Antwerp (Belgium): A day after being thrashed 0-7 by top-ranked The Netherlands, India are still nurturing the Olympic qualification dream as they brace for a play-off fixture against lowly Italy in the women's Hockey World League Semifinals, here tomorrow.
For the Rio Olympic dream to sustain, India will have to come out victorious in tomorrow's 5-8 position classification match against Italy, who showed their mettle in the quarterfinal encounter with Australia.
With the Olympic qualification berths likely to filter beyond the semifinalists, India are eager to put up an improved show in the play-offs for the fifth to eight spots.
Reigniting the players' self-belief would be the prime task for the team management following the 0-7 loss to reigning World and Olympic champions The Netherlands, who were a street ahead of the Indians in quality.
The Indian girls would be looking to plug gaps in their defence as they go into the game against the fast-improving Italian team, placed three spots behind India's No. 13 world ranking.
The Italians will be inspired by their show against World Cup silver medalists Australia. Only two penalty corner conversions, one in each half, separated Australia from minnows Italy.
Italy are no mean opponents and the Indian girls realised this when they lost a five-Test series in December. Italy won two Tests, India won one and two others ended in draws.
"Italy would be the opposition you look for such a game," said Indian women's hockey team chief coach Mathias Ahrens, hoping his wards would be able to turn the tide after being at the receiving end in successive matches against Australia and The Netherlands.
"But the Italians are a very good side and their ability has been on view at this tournament," said Ahrens.
"The qualifying dream is still alive. The girls wanted so much going into the contest against The Netherlands. It may not have been realistic, but I do understand that from the girls' perspective," said Ahrens.
"There is always a lot at stake for the Indian players."