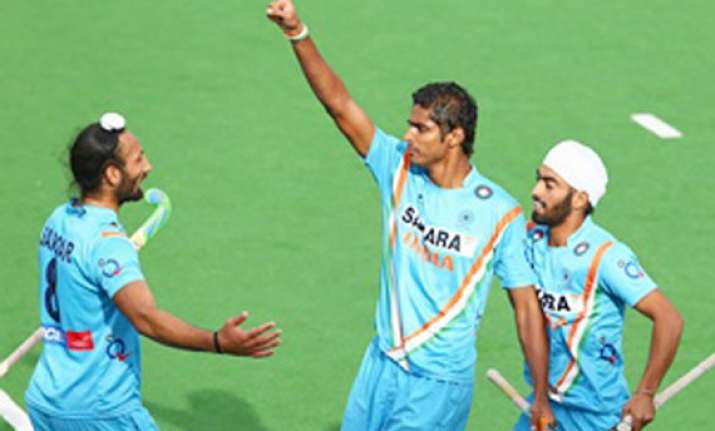 Melbourne, Dec 6: India grimly hung on to an early lead to prevail 1-0 over Belgium to advance to the semifinals of the Champions Trophy at the State Hockey Centre in Melbourne on Thursday.
The goal that settled the fate of the quarterfinal contest came in the 13th minute of the first shot India had at the rival goal.
Nitin Thimmaiah capitalised on a rebound to send a firm shot into the right corner of the goal. The rebound had come to Thimmaiah on top of the circle following Gurmail Singh's try off a cross from Birendra Lakra.
India had very few chances thereafter and were forced to fall back to defend stoutly as Belgians asserted strength in the midfield.
Belgium forced six penalty corners against India's one.
It was because of a fine display by defenders V R Raghunath and Rupinder Pal Singh, beside goalkeeper T R Potunuri, that India managed to maintain their lead.
Belgium had beaten India in their last two encounters — in the final of the Champions Challenge last year and in the preliminary league of the Olympic Games in London.
India are now in the hunt for their first medal since their lone Champions Trophy bronze in 1982. This will also be India's highest finish since 2004 when they had lost the bronze medal match to end fourth.
In the semifinals, India will take on the winner of the other quarterfinal match between four-time defending champions Australia and England.