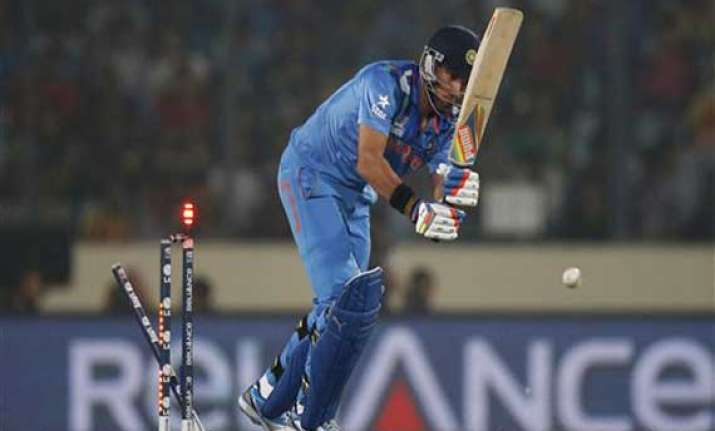 Mirpur:
So far two matches in the super ten stage of World T20 have not seen much of Yuvraj Singh and admitted that he is "under pressure and not in great touch".
However Dhoni expressed confidence that out-of-form Yuvraj Singh will come good in the remaining matches of the World Twenty20.     
"Yuvraj is one of the best players of T20 but yes you can say that he is not in great touch at the moment. It becomes tough when you are dropped from ODIs and then you make a comeback in the T20 squad. So there's bit of pressure on him," Dhoni told reporters.     
"It's easy to say that it is a short format but when an individual comes into the squad, there is bound to be pressure on him," he added.     
Yuvraj scored a painstaking 10 off only 19 balls during yesterday's seven-wicket win against West Indies but Dhoni was confident that Yuvraj has the ability to get back in form and win matches for his team.     
"It takes one or two matches. Probably, he will get back into flow as we know how good a match-winner he is. He can turn a game on his own. Today the plan was to have a higher net run-rate but at the same time give Yuvraj a chance to settle his nerves. If he is in flow, Yuvi is a good asset to have," Dhoni added.     
About Amit Mishra's splendid form with back-to-back man of the match awards, Dhoni said that his only advice to the Haryana leggie was to back his strengths.     
Asked what was his tips to Mishra, Dhoni smiled and said, "I told him, Just Play!".     
On a serious note, he further added: "People bowl or bat according to their strengths. He was feeling a bit of nerves against Pakistan and I went up to him and told him that you are known to turn the ball, flight it and vary the pace.     
"I told him just don't try to bowl the straighter one. Try to bowl back of length so that batsman can't hit. I told him, biggest strength to flight and deceive batsman.     
"During Pakistan game, I knew he was not bowling his hundred percent. I knew with that man-of-the-match performance, he will get better in coming matches. He bowled well against Gayle and used the odd variations. Their will be days when like other bowlers he may also get hit but it's important that he backs his strength," Dhoni said.