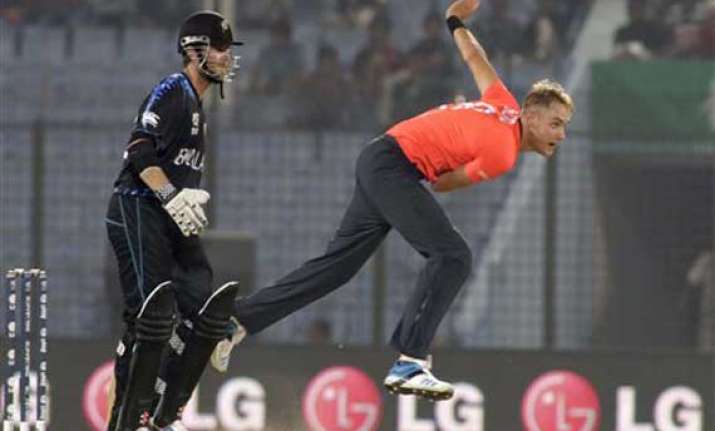 After losing to New Zealand through DWL method, England captain Stuart Broad is seeking clear rules on when the weather should stop play.
On-field umpires Aleem Dar of Pakistan and Paul Rieffel of Australia failed to stop the game despite thunder when New Zealand were chasing a 173-run target set by England in a Group One Super-10 stage match in Chittagong on Saturday.
The umpires waited until heavy rain fell. Even after a 25-minute delay the match could not be resumed.
New Zealand benefited from the decision. At 52-1 after 5.2 overs -- nine runs ahead of what they needed under the Duckworth-Lewis method, a formula used to calculate the winner in rained-off matches -- they were declared to have won.
Broad felt had play been stopped before completion of the fifth over it would not have counted as a complete match, resulting in one point for each team.
He said the umpires' decision cost his team the match.
"To be as polite as I possibly can be, I think it was distinctly average decision-making, keeping us on after the first lightning strike at the start of the fifth over, keeping us on throughout that," Broad said in his post-match comments.
Ironically, it was Broad who was hit for 16 runs by his counterpart, Brendan McCullum of New Zealand, which lifted New Zealand well clear of the required target on the Duckworth/Lewis method.
"That over has obviously given us a loss," said Broad, whose team next face Sri Lanka on Thursday.
Broad called for clarity on the decision from the International Cricket Council (ICC).
"I think you should have an umpire in here for some clarity, to be honest," he said.
"There are some questions that need asking to the ICC.
"I mean it's all very well wanting to finish a game so you can tick a box, etc, but players' health and safety and actually crowd safety is very important and that to me felt like very threatening lightning."
Broad said the umpires denied they had seen the lightning.
"I asked the umpires for a bit of clarity on the decision-making at the end of the game, and they said they didn't see the lightning and didn't think it was a threat.
"You can guarantee from our team we felt like it was a threat, and with a batsman pulling away from a delivery after 4.2 overs I think the batsman saw it as well," said Broad of McCullum pulling away after the first lightning strike.
"At the end of the day it's a game of cricket so I wouldn't be putting the crowd and players' safety under threat.
"It's not sour grapes because I think both sides were uncomfortable being out there in such heavy lightning being around," said Broad.
But New Zealand paceman Kyle Mills backed the umpires' decision.
"If Stuart was on the other end of it, he would be more than happy with the decision," said Mills.
"In cricket you win some and you lose some. The umpires are trying to make the decisions to the best of their ability. They want to get a full game of cricket on, a judgement call as they see it, and it just so happened that we got another over in the game."
New Zealand next meet South Africa in Chittagong on Monday.