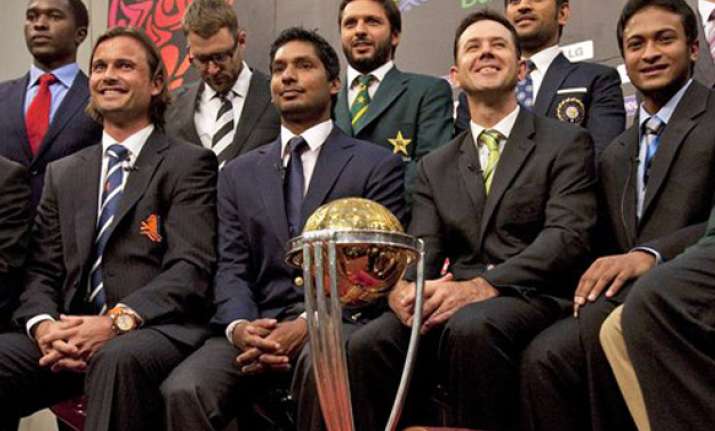 Dhaka, Feb 18 : Indian captain Mahendra Singh Dhoni on Thursday joined 13 other skippers in predicting a closely contested World Cup and said the team which maintains consistency throughout the tournament will win the showpiece event.
"All teams are in good touch. The gap between matches will help players recover from niggles which are bound to happen. It means every team will be in good shape for their matches," Dhoni said.
"A side that plays consistently well over the next six weeks will do well," he said at a rare assembly of all the 14 World Cup participating team captains for a photo-shoot and media conference ahead of the opening ceremony here. Welcoming other participating teams on behalf of the three host countries of the sub-continent, Dhoni said, "I welcome the other teams and hope they will enjoy our hospitality. The interest in cricket in this part of the world is unmatched. I am sure everyone will have a great time."
Defending champions Australia's captain Ricky Ponting said the World Cup was a pinnacle in the sport and hoped it would be a spectacle for players and fans alike.
"On behalf of the 13 other captains, I welcome the cricket fraternity to the World Cup. It is the pinnacle of our sport and we will make sure it is a spectacle to remember," said Ponting, whose lead Australia to the last three World Cups triumphs.
South African captain Graeme Smith agreed with Dhoni and said this edition of the tournament was a far more open than the previous three.
"I believe every team taking part has a chance to win, it is all very open," Smith said. Sri Lankan captain Kumar Sangakkara said playing at home conditions would not guarantee any of the three host nation the title triumph.
"It is great playing at home and in front of our own crowds. You have to play your best all the time, better than your opponent. The format is such if you make the quarterfinals, you need to play great in two matches to reach a World Cup final," he said.
Bangladesh captain Shakib Al Hasan said there was no pressure on his team to beat India in Saturday's opening match at the Sher-e-Bangla stadium at Mirpur.
"Fans do expect a lot but there is no pressure on us. It's about doing well in all our matches not just about winning the first game," he said.
England's Andrew Strauss said his side will have to adapt quickly to the sub-continental conditions to aim for their maiden World Cup trophy.
"The conditions here a lot different from what we faced in Australia recently. The key will be how quickly a side can adapt to the conditions," he said.
"Our warm-up game against Canada (on Wednesday) showed there will be no easy fixtures at the World Cup, which will go to make a great tournament."
The 14 teams are divided into two groups in the preliminary league, with the top four in each group advancing to the knock-out rounds. Reigning champions Australia are pooled with Sri Lanka, Pakistan, New Zealand, Zimbabwe, Kenya and Canada in Group A.
The other group comprises India, South Africa, England, West Indies, Bangladesh, Ireland and the Netherlands. The first match of the tournament will be played on February 19 with co-hosts India and Bangladesh facing each
other at the Sher-e-Bangla National Stadium here. The final would take place on April 2 at Wankhede Stadium in Mumbai. PTI