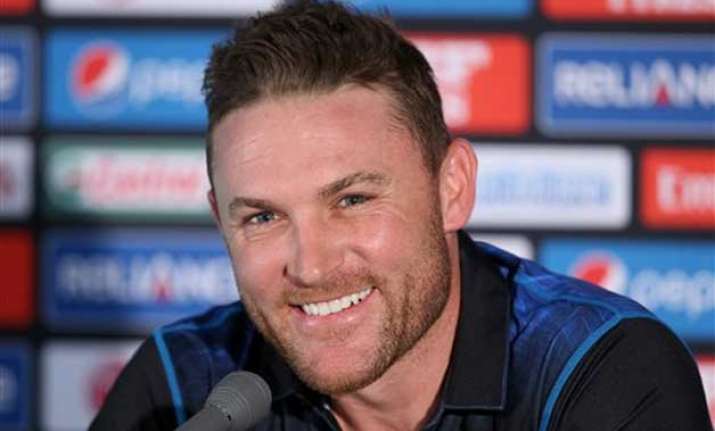 Melbourne: New Zealand captain Brendon McCullum on Saturday gave his gritty side a 50-50 chance in the World Cup summit clash against Australia on Sunday and said the Black Caps will relish the big occasion and the big stadium that awaits them here.
"...It's been the greatest time of our lives. It's been an amazing trip. We dreamt right from the start and to now give ourselves a 50-50 chance in the final is an amazing achievement," McCullum said in a pre-match press conference.
Unbeaten in the tournament so far, New Zealand would be playing outside home for the first time in the mega-event's current edition.
There has been a lot of talk about the size of the Melbourne Cricket Ground, which might trouble the Black Caps, who have played all their matches in comparatively smaller New Zealand ground.
Asked if "size does matter" at all, the skipper said, "Yeah, obviously it's got a different look to it. We've played on grounds all over the world. If you look at Abu Dhabi, the Emirates stadium is a big ground as well. Obviously, it doesn't have the same amphitheatre that obviously the MCG presents, but I think boundary size it's bigger.
"But in this day and age with bigger bats as well it still brings into play the fours and sixes. So we'll adapt accordingly. It's something that we'll relish, I think. We'll look forward to the opportunity to play in such a big stadium and a different kind of cricket ground, and we'll give it a good shake."
Questioned on his team's chances, the dashing opener said, "We'll play well but it doesn't guarantee us anything. It doesn't mean that Australia won't beat us, but I'm very confident we'll turn up and display our skills just as we have done throughout the tournament."
Asked if the once little kid from South Dunedin ever believed that playing a World Cup final was reality, the soft-spoken McCullum had an embarrassing smile.
"We've had some tremendous support back home. I think the brand of cricket that we've played has really touched a lot of people and endeared ourselves to a lot of people who follow this game," McCullum answered the query with all humility.
The skipper said his team will give its everything.
"We've got one big hurdle tomorrow. We'll give it everything we've possibly got. Hopefully if we play well, we'll be smiling at the end of the day and be able to look back on a fantastic campaign and something, which would hopefully invigorate the game and New Zealand," he said.