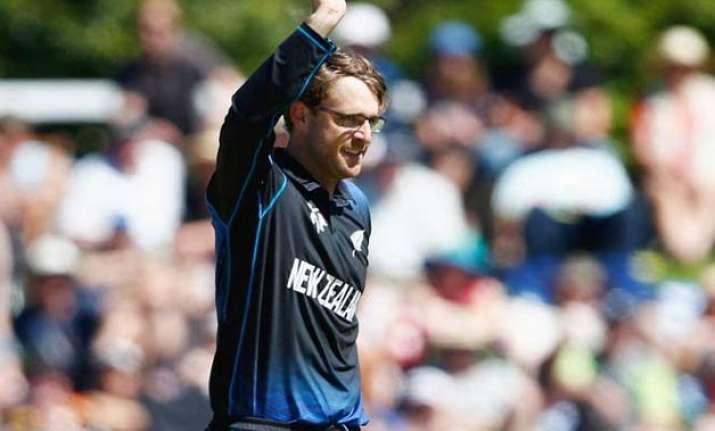 Napier, New Zealand: Veteran spinner Daniel Vettori is poised to reach 300 wickets in one-day internationals when New Zealand plays Afghanistan in a Cricket World Cup match on Sunday but says team objectives will trump individual considerations.
Vettori, who is playing at his fifth World Cup, needs two more wickets to become the first New Zealander to reach the milestone. He also has 2,200 runs in ODIs along with 362 wickets and 4,500 runs in tests.
"For a long time, thinking about test records was really important to me, and in some ways one-day cricket was put in the background," Vettori said. "Coming into the tournament I was thinking that way.
"Because we've been going so well and I've been able to contribute, I haven't really thought about it."
Vettori has taken nine wickets in New Zealand's four Cup matches so far bat a run rate of only three runs per over, the best economy rate of any of the specialist bowlers in the tournament.
Against Australia, he bowled his first nine overs for 28 runs, claiming the wickets of Shane Watson and Steve Smith to curb Australia's scoring and play a key role in the Black Caps' one-wicket win over their co-host.
"If I can be as economical as possible that allows Trent (Boult), Tim (South), Adam (Milne), Mitch (McClenaghan) and Kyle (Mills), whoever plays, to attack and take wickets, that's what Brendon (McCullum) likes as a captain," Vettori said. "He likes to take wickets but it's hard to do that from both ends. So if I can fill that role from the other end, allowing those guys to attack, that's really (my) role."
McCullum said Vettori, who has returned to the team after persistent injuries, was a vital part of his tactical flexibility as captain.
"What he allows us to do from a strategic point of view is to be able to chop and change the pace of the game," McCullum said.
"He allows us to play an attacking brand of cricket because he also brings with him that skill he can put the brakes on when we are behind the eight ball."