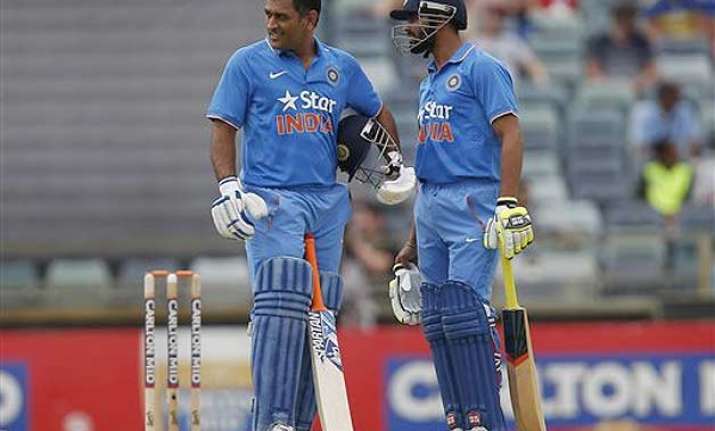 New Delhi:  Team India ended their tour to Australia without scripting any victory. After losing to Australia in the four match test series a lot was expected from Team India in the Tri- Series as it provided an ample opportunity for Dhoni's boys to check out their strengths before the start of 44 days mega event and their quest to retain the World Cup.
But the defending champion now have more questions to answer then ever before. With jus two weeks left for the commencement of World Cup 2015 and the poor outing of the team in the tri –series has raised several questions. The list of problems for Team India is many with its strike bowler Ishant Sharma is still yet to regain his full match fitness. Shikhar Dhawan is looking as if he has no clue to the swinging deliveries in Australia.  It has been 47 years ago when Team India did not win a single test or ODI in Australia.
The recent performance of the team has risen doubts in the minds of bookies also who have placed team India as the fourth team in the list of probable to lift the World Cup. It is ranked behind   Australia, South Africa and   New Zealand.
Mahendra Singh Dhoni after losing the match against England has said that what his side needs the most in preparation for its first World Cup game, against Pakistan at the Adelaide Oval on February 15, is complete rest. Dhoni said "We have been here for more than two months; we know the conditions. What is important now is we have a really good break. Completely switch off."
Ishant Sharma has been sidelined with a knee injury since the third Test against Australia. Ishant Sharma's fitness is only one of India's problems.
Dhoni admits his middle order needs to do more if the team is going to turn things around during the World Cup. A glance at the performance of the Indian middle order goes on to the dismal performance by Indian middle order  Virat Kohli made a total of just 24 runs in four tri-series matches, Suresh Raina started the campaign with a half century, but has been dismissed for just one run in each of his past two innings, while Axar Patel has contributed only one run in three visits to the crease and was demoted to No.9 having earlier batted at No.7.
The main problem with the middle order is that its keep losing wickets at quick succession which results in team not able to put up a competitive score in the scoreboard to defend.Rohit Sharma scored India's only century 138 against Australia at Melbourne.  
Team India needs to regroup and get their act together as soon as possible with all the ambiguities need to be addressed as soon by the team management. Ravi Shastri and Coach Duncan Fletcher should make an effort to address all the shortcomings that the team is facing right now or it may soon be all over for Team India at the World Cup 2015