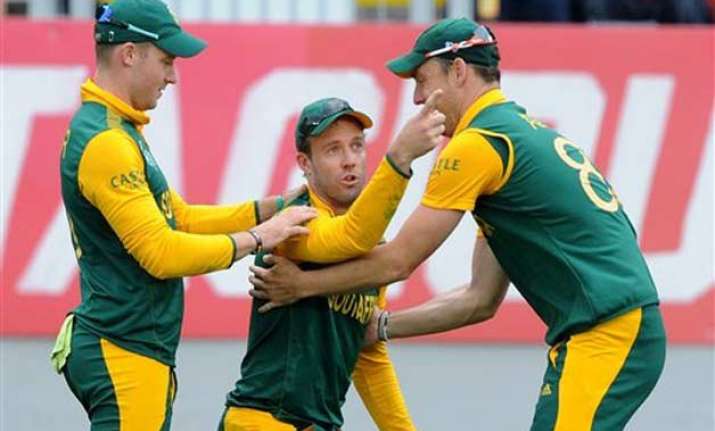 Wellington, New Zealand: South Africa captain A.B. de Villiers says his team must win its final Pool B match against the lowly United Arab Emirates on Thursday to be assured of its berth in the Cricket World Cup quarterfinals.
The Proteas have been inconsistent so far, twice scoring more than 400 runs in big wins over the West Indies, Zimbabwe and Ireland, but losing to India and Pakistan.
A win against bottom-placed UAE in Wellington would all but guarantee South Africa a second-place finish in Pool B behind India and a likely quarterfinal matchup against Sri Lanka in Sydney.
Should it lose, South Africa would likely finish pool play in a three-way tie on six points, but would be favored to progress thanks to its superior net run rate.
"It's a must-win for us, very important," said de Villiers. "We'd really like to get to eight points and make sure we finish second in the group."
De Villiers said he hoped a couple of his teammates find some form. He didn't mention names, but top of the list will be 22-year-old opener Quinton de Kock, who has scored just 27 runs in five World Cup innings.
De Villiers said he expected to field a team close to South Africa's top XI, and that some of its part-time bowlers may get the chance for an extra workout. He said he wanted to see bowlers hitting their lengths and some good fielding.
"Just a good, basic game of cricket," he said. "Nice and tight. That's all I'm looking for."
Despite South Africa's rocky path to the playoffs, he said, he still believes it's the best team in the tournament.
"Yes, we would have liked to have won those two games, the two big games against India and Pakistan," he said. "It didn't happen that way, and there's no time to sulk about that now."
De Villiers said he was still unsure of the availability of bowler Vernon Philander, who has a hamstring injury, and batsman Francois du Plessis, who has a lower-back injury. He said he thought Philander was close to being fully fit.
South Africa beat the UAE in their only match 19 years ago.
UAE captain Mohammad Tauqir joked that the only way to prevent South Africa scoring 400 runs might be for his team to bat first. But he said the Proteas could be put under pressure and he didn't think they would post a massive score.
"It's a very good team, but I think we were all not expecting South Africa to lose against Pakistan, so it's a funny game," he said. "It gave us a bit of hope also. We'd like to do well."
The UAE has lost all four of its pool games, although it came close against fellow associate nations Zimbabwe and Ireland. It has performed well considering most of its players are part-timers who will go back to their day jobs when the tournament is over.
Tauqir said he hoped the International Cricket Council would reconsider its plans to shrink the next World Cup from 14 teams to 10, which would likely mean the UAE would miss out.
"If I look at this tournament, among all the associate nations, everybody has done well. Whether it's Ireland or Afghanistan, or Scotland, or ourselves," he said. "The more we play against these (test-playing) nations, or their A sides, the more we tour and the more we play, we can only get better from here."