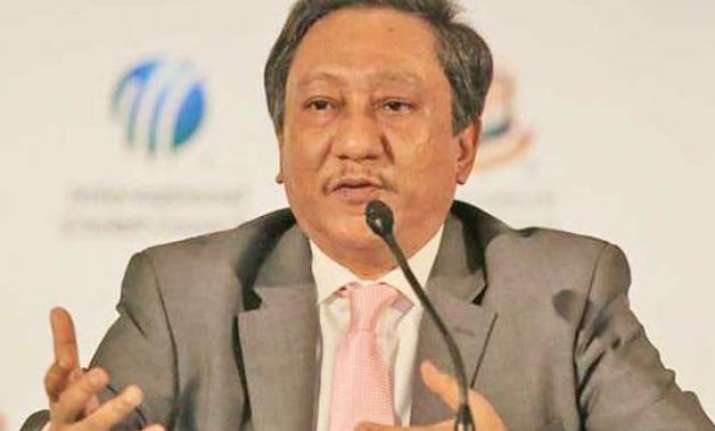 New Delhi: In an another controversial umpiring decision in the on-going world cup, Bangladesh Cricket Board (BCB) will now move to the governing body International Cricket Council (ICC) to appeal against the controversial decision made by the umpire Aleem Dar.
According to CricInfo, the BCB has said it will lodge an appeal against the umpiring decision in Thursday's match that let Rohit Sharma off the hook, and do whatever is legally necessary.
The decision prompted an angry response in Bangladesh, with expressions of outrage from several quarters and an unusually sharp outburst from the ICC president AHM Mustafa Kamal, who said that it appeared as though the umpires had come to the game with an agenda.
Moments after Rohit was caught off a Rubel Hossain full-toss in the 40th over, umpires Aleem Dar and Ian Gould signaled no-ball but replays suggested that the ball was only waist-high when contact was made and on its way down.
Media reports say Bangladesh fans burnt effigy of Pakistani cricket umpire Aleem Dar and marched in the capital Dhaka after the country was knocked out of the World Cup.
BCB president Nazmul Hassan said that the matter will be taken to the higher authorities. "One wrong decision can make a huge difference in a World Cup quarter-final," he added.
ICC should investigate the matter, and questioned whether the decisions were "deliberate or not". He however said he was speaking as a "fan" and not as the current ICC president.
He also said he believed that other teams like Australia and South Africa would react similarly if they were also victims of poor umpiring decisions.
Opener Rohit Sharma top-scored with 137 off 126 balls and Suresh Raina hit a rapid-fire 65 from 57 balls as India posted a daunting total of 302 in the quarter-final in Melbourne that took the match away from Bangladesh.