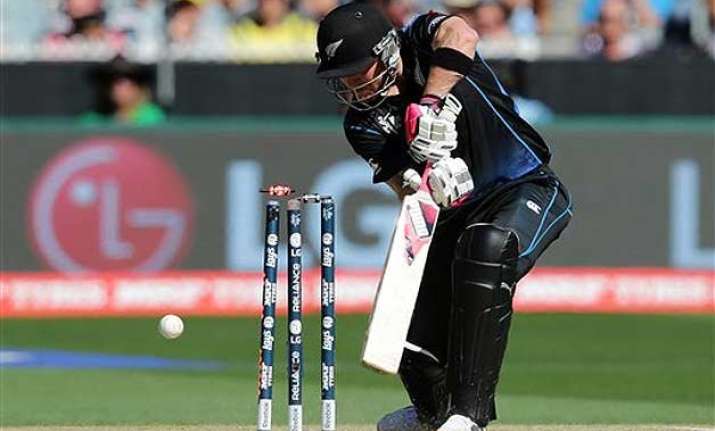 Melbourne: Man-of-the tournament Mitchell Starc said that there was a plan to bowl yorkers to Brendon McCullum first up and he was happy to execute that plan.
McCullum was bowled by Starc in the first over which set the tone for the rest of the match.
"I think personally it was a bit of a planning game with Craig McDermott about just bowling in pace and yorker to him first up, and I'm not sure how that first one missed, but lucky the third one hit. There's a lot of luck involved, but just nice to see that plan come off," a delighted Starc said at the media conference today.
"I think we've watched him (McCullum) a fair bit through the tournament being pretty destructive. He's been a key player for them right from the beginning, and he's been fantastic for the Kiwis to get them off to great starts. I think after that game in New Zealand we knew we had to sort of assess him as he went because he's very unpredictable," said the left-arm paceman, who ended the tournament as the highest wicket-taker with 22 scalps alongisde New Zealand pacer Trent Boult.
Since loads of runs were scored, Starc was happy that ball dominated the bat in the final.
"It's nice to see bat dominate ball every now and again. There's been some fantastic performances with both. Obviously it's been a couple of big scores, a couple of double tons. Look, it's just been fantastic the whole tournament, and I guess from the Australian point of view, I think we've worked really hard at our bowling.
"Not only in the World Cup but leading up to it, and to see it come off, I think every bowler who's bowled in the tournament, not just the guys who played the final, it's been fantastic," he said.
On how he managed to get all those wickets (22 in all) at a 3.5 runs per over economy rate, Starc said, "We have all complemented each other throughout the whole tournament. I'm speaking on behalf of the Australian squad anyway.
But yeah, look, it's been awesome. We've got guys who do things differently in the 15, got guys who can swing it, guys who can bowl -- a few guys who can bowl in the 150s. Jimmy (Faulkner) comes in and uses variations better than most people.