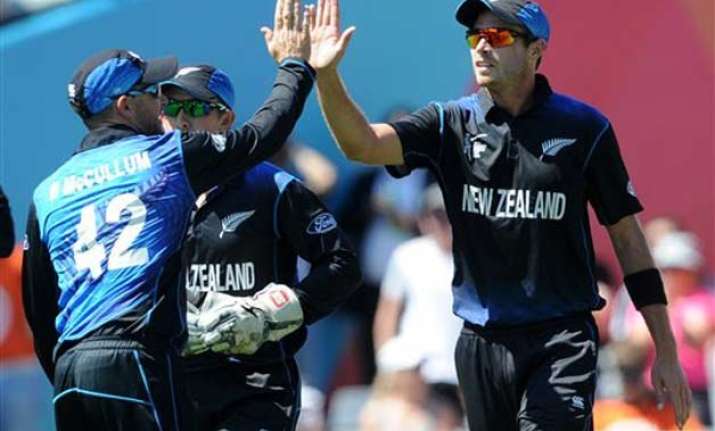 Napier, New Zealand: For the fifth time in a row at this Cricket World Cup, New Zealand captain Brendon McCullum opened a pre-match press conference with the same two words: "same team."
New Zealand will go into its Pool A match against Afghanistan at McLean Park on Sunday with the same 11 that beat Sri Lanka, Scotland, England and co-host Australia.
With its quarterfinal place already secured ahead of pool matches against Afghanistan and Bangladesh, New Zealand had the option of resting some players and giving chances to other squad members.
However it now appears the Black Caps intend to go through the entire tournament with the same XI, having played some short matches which have given the bowlers some welcome rest.
"Being able to name the team again now it shows we are confident in the group of guys that we've got," McCullum said.
"But I am confident that if injuries do come about in games to come then we have the experience and personnel on the sideline who can step up and perform the role given to them."
New Zealand and Afghanistan have not met before in a one-day international but there will be few secrets. Afghanistan is coached by former Black Caps coach Andy Moles while New Zealand coach Mike Hesson was formerly in charge of Kenya which played regularly against the Afghans.
"They have got three guys who bowl in excess of 140 kph and have asked some questions of some very good teams at the start of their batting innings," McCullum said. "They look like a team under Andy Moles who are playing with a lot of passion and enjoying their World Cup campaign."
McLean Park is regarded as one of the best batting wickets in New Zealand, raising expectation of yet another score in excess of 400 but McCullum said that score "is no easy feat, regardless of who you're playing against."
Moles said the Afghan seam bowlers will need to curb their naturally attacking game and concentrate as much on restricting scoring.
"(The Afghan bowlers) need to realize they need to hit their areas for longer when they play against the better players," he said. "In the associate world they are bullies. They're fast, they're nasty but with the full members they're not bullies.
"They have to understand the level they're at and they need to apply themselves for longer rather than think they're going to blast people out."
Afghanistan has achieved its main goals at this World Cup: winning a match, and proving itself as a worthy competitor for the top teams.
The next challenge is building on the momentum of this World Cup with more regular matches against the major nations. A place on the ICC's Future Tours Program allows management to negotiate for such games.
"We are realistic we are not going to get stand-alone tours but it would be nice if we could be added onto a series and make it a tri-series where we could pick up opportunities to compete against the better sides," Moles said.
"''We are currently talking to four or five countries who have shown interest, but talking about it and getting it done is the hard thing."
With Afghanistan unable to host matches at home for security reasons, the most likely scenario is for teams who are playing in the United Arab Emirates against Pakistan — also in continued exile for security reasons — to tack on a game or two against the Afghan team in its adopted home of Sharjah.
"When we package it up in that way, it makes it more attractive," Moles said.
In the immediate term, the team is intent on wringing as much experience as possible from the current tournament, even the trying experiences like the thumping loss to Australia in its previous game.
"(Against Australia) the guys had to go out and face 150 kph-plus (bowlers) on probably the quickest, bounciest wicket in the world," Moles said. "It was an experience that was a bit brutal but it's one that they can call back on as they move forward in their cricketing careers.
"One thing about these Afghans, they're very passionate and very proud people and they're fighters."