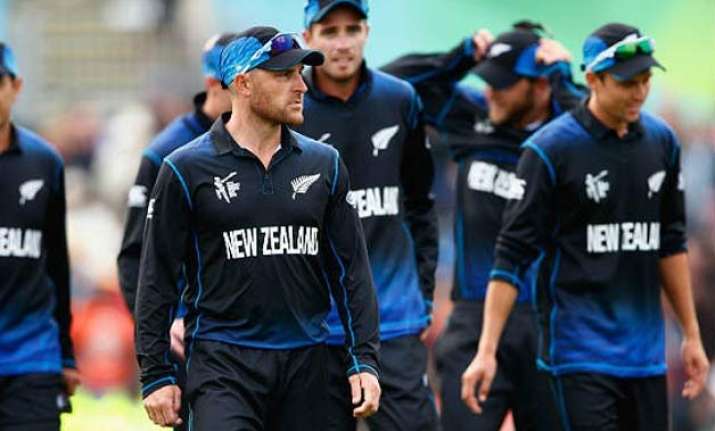 Wellington, New Zealand: Having enjoyed home advantage throughout the Cricket World Cup as co-host, New Zealand believes its inside knowledge of the venue for Saturday's quarterfinal against West Indies may make that advantage even greater.
New Zealand has won 10 of its last 12 one-day internationals at the Wellington Regional Stadium, known locally as the Cake Tin, and coach Mike Hesson hints that familiarity with the venue might have played a part.
Hesson told reporters the drop-in pitch used for international matches at the stadium has particular quirks with which the New Zealand bowlers and batsman are familiar — but which visiting players might find disconcerting.
"It's quite an unusual bounce which takes a little while to get used to and we've played enough games there that our guys have adapted to that," Hesson said. "Sides that haven't been there in recent times will need to adjust.
"I don't want to give too much away about what the bounce is, but it's a different surface. It's a drop-in and it had a big gap underneath it, now it's got some rubble or shingle underneath so it bounces a bit differently than it has in the past. We've had some recent experience of that."
New Zealand fast bowler Tim Southee took 7-33 when New Zealand bowled out England for 123 in its only pool match at Wellington on Feb. 20. Southee's three best bowling returns in 91 one-day internationals have all been achieved at the Cake Tin.
New Zealand hopes that Southee and his new ball partner Trent Boult, with whom he shared 28 wickets at the tournament so far, will again be able to exploit conditions in Wellington to take early wickets on Saturday.
New Zealand's policy throughout the World Cup — critical to its unbeaten record in pool play — has been to use its frontline bowlers and attacking fields for as long as possible in all matches to capture early wickets.
"Our aggressive philosophy has served us well over the last 12 months and if you can't keep picking up wickets, as sides have found out, you can get taken at the death regardless of who is bowling," Hesson said. "We'll keep that same mentality. Our plan is to keep taking wickets."
The key wicket will be opening batsman Chris Gayle, but Hesson said New Zealand couldn't focus on one player and realized the West Indies had several potential match-winners.
"They're dangerous," he said. "When you think that they're down they come out and one of their players plays an explosive innings or bowls a spell that can take you out of the game.
"Sometimes it's easier to play a side that's a bit more predictable, whereas the West Indies on their day are exceptional."