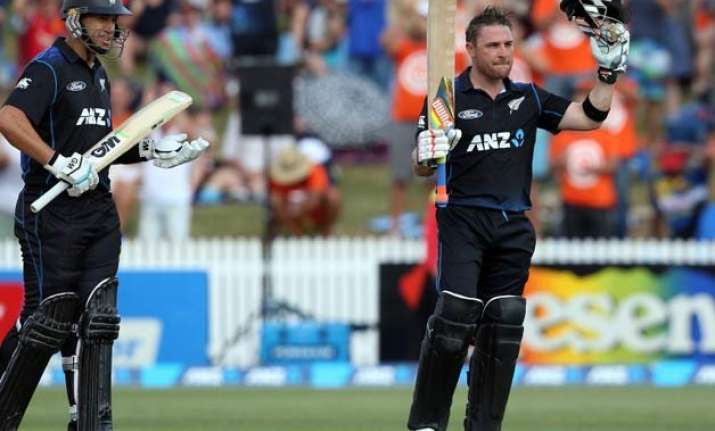 New Delhi: World cup 2015 co-host New Zealand's batting coach Craig McMillan is a happy man today as his batsmen have flourished just at the right time when Cricket's mega even is round the corner.
Kiwis batsmen have shown form in the on going series against Sri Lanka and justified their coach's delight who said the good thing for this series in terms of batting is that all of the batsmen have got a score to their name, and other people have picked up the slack, so we're pretty happy with where everyone is sitting.
Black Caps batting coach is particularly happy with the openers saying, "I think a lot of sides will go with both openers blazing actually, if you look at Australia with Finch and Warner. I think we're lucky here with Brendon and Martin that we have two players who can be very destructive and can put some real pressure on bowling attacks. We've got attacking aggressive batsmen, and that's how we want them to play at the top of the order."
In the last 10 ODI Brendon McCullum has scored 283 runs in 10 matches, which includes an inning of 117 runs vs Sri Lanka at Hamilton.
"That's his style, and it's been very successful over a period of time. He will miss out occasionally,  but Brendon is the X-factor player who on his day can take a game away from the opposition and that's how we want him to play. You know with him a big score is never far away," Craig said.
Corey Anderson with his all-round performance and batting at number six he's been able to consolidate an innings.
In the last 10 ODI Corey Anderson has scored 233 runs in last 10 matches.
"I can bat for long periods of time and not lose my head – and if I get to come out and free the arms it means we're in a pretty good position," said Anderson.